Seventh-annual analysis highlights top business activities, sectors contributing to clean energy firms, revenue and employment growth in North Carolina
RALEIGH, N.C. ó The NC Sustainable Energy Association (NCSEA), a leading 501(c)3 nonprofit organization dedicated to shaping the state's clean and efficient energy future, announces results of its seventh-annual 2014 North Carolina Clean Energy Industry Census, quantifying the clean energy industry's economic impact on North Carolina. The 2014 report reaffirms the state's flourishing clean energy industry's role in driving the state's economy, experiencing an annual growth of approximately 25 percent since 2012 – outpacing the growth of other industries in the state.

According to the 2014 Census, North Carolina has experienced approximately 15 percent annual increase in revenues generated by clean energy activities since 2012, reaching $4.8 billion in gross revenues in 2014, up $1.2 billion from 2013. The Census also reports significant job growth in 2014, accounting for 22,995 full-time equivalent employees in North Carolina and more than 1,200 firms. Notable this year, the Building Efficiency sector emerged as a clean energy leader, accounting for nearly half of all full-time employment in the industry, particularly in the design and construction of new buildings. This is promising both as an indicator of broad economic health in the state and as a signal that energy efficient buildings are in high demand.
"This year's Census not only reveals good news for the clean energy industry; it demonstrates powerful news for all of North Carolina," said NCSEA executive director, Ivan Urlaub. "Consider the rise of clean energy business sectors like building efficiency and energy storage, which are creating immediate jobs and lowering business expenses, while preparing our state to affordably meet future energy demand. Our state is not only better off with clean energy, it's thriving – and becoming a national model for how clean energy development can help strengthen economic competitiveness."
Driven largely by the state's market-based clean energy policies, North Carolina was recently named one of the fastest growing markets for clean energy solutions, and is ranked fourth nationwide in installed solar power. NCSEA created the Census in 2008, a first of its kind nationally, to help measure the impact of North Carolina's clean energy policies and identify where policy is and is not achieving the results that policymakers, economic developers and industry members envisioned. One such policy is the Renewable Energy Investment Tax Credit, which has reportedly returned $1.93 for every $1.00 utilized by state and local governments.
"When I joined NCSEA as executive director in 2005, there was no real pathway for investors into our market, but through incremental steps and attainable goals we have successfully accelerated the rate of clean energy adoption and acceptance and North Carolina continues to progress as the region and nation's clean energy hub, competing with the likes of California, Texas, New York and Massachusetts," said Urlaub.
The Census has become an invaluable resource for stakeholders around the state and beyond, presenting analysis on employment, revenues, geographic presence, export activity, and business climate in the industry. The 2014 edition is no exception – detailing analysis of data collected through responses from nearly half (567) of the estimated 1,208 firms currently conducting clean energy related business in North Carolina – and with even more visuals now included to support and illustrate impact.
According to Urlaub, the Census also points to a bright outlook. "We anticipate growth to continue this year, with participating firms from all sectors of the state's clean energy industry reporting they anticipate to hire additional workers in 2015."
About the NC Sustainable Energy Association:
The NC Sustainable Energy Association (NCSEA) is a recognized 501(c)3 nonprofit, nonpartisan advocacy organization dedicated to shaping North Carolina's clean energy future through commonsense policy solutions that enable clean energy jobs, business opportunities and affordable energy to strengthen the state's position as a leader in the new energy economy.
Engaging its deep ties with members, government officials, North Carolina communities and industry partners, NCSEA leads policy change that motivate sustainable market development while educating North Carolinians about the impacts of abundant and accessible clean energy.
NCSEA has served as a respected, trusted and collaborative resource to North Carolina and beyond driving some of the most successful policies across all energy sectors since 1978. NCSEA is also a member of the American Solar Energy Society and the Advanced Energy Economy.
For regular updates, please visit NCESA online at energync.org and follow NCSEA on Facebook and Twitter.
Featured Product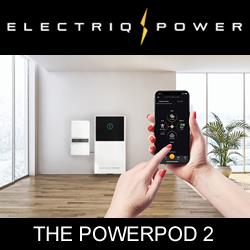 The Electriq PowerPod 2 is a fully-integrated home energy storage, management, and monitoring system powered by LFP batteries. The high-performance, cobalt-free product includes a hybrid solar/battery inverter controlled by intelligent software. The PowerPod 2 provides backup power and can self-consume or export excess power back to the grid.