Sustainable Energy For All consultation led by UN Foundation's Energy Access Practitioner Network and WWF draws over 100 key stakeholders
Hon. George Simbachawene, Minister for Energy and Minerals, keynotes at two-day workshop, urging meaningful engagement from business and civil society

Dar es Salaam, February 11, 2014: In Tanzania today more than 100 private sector, government and NGO representatives, as well as community leaders and energy innovators, concluded two days of multi-faceted and broad-based stakeholder consultations led by the United Nations Foundation's Energy Access Practitioner Network and the World Wide Fund for Nature (WWF) in support of the United Nations' Sustainable Energy For All initiative's 2030 objectives of delivering access to modern energy services for all, doubling the rate of improvement in energy efficiency and doubling the share of renewables in the global energy mix.
Inaugurating the two-day workshop, Hon. George Simbachawene, Minister for Energy and Minerals, urged participants to discuss best practices and ways to meaningfully engage all stakeholders to achieve sustainable energy for all in Tanzania: "SE4ALL initiatives provide a working partnership with governments, parliamentarians, private sector companies, industries, and civil society towards a sustainable future free of poverty".
Tanzania, one of Sustainable Energy for All's 14 African current priority countries, is working to overcome challenges in providing access to energy for its entire population. According to the International Energy Agency's World Energy Outlook 2014, 36 million people, some 76% of Tanzania's population, do not have the benefits of electricity to power their homes, support education, deliver health care services, or drive economic development across commercial, agricultural and industrial sectors.
The consultation, facilitated by the UN Foundation's Energy Access Practitioner Network together with the WWF, served as an opportunity for an in-depth multi-stakeholder discussion around energy solutions for Tanzania, drawing in the perspectives of government, energy sector companies, and civil society. "The UN Sustainable Energy For All consultation provides a valuable opportunity to bring energy innovators and government to focus jointly on policy and implementation solutions to bring affordable and reliable energy services to Tanzania. It showcases how decentralized renewable energy solutions such as solar home systems and community micro-grids complement efforts underway on conventional grid extension," said Richenda Van Leeuwen, Executive Director, Energy Access, UN Foundation.
"Energy Access in Tanzania is one of the substantial barriers to sustainable economic development. Tanzania will not achieve its vision of securing a middle income country status by 2025 and other Sustainable Development Goals unless the energy equation is solved. Access to clean, safe and affordable sources of modern energy is critical for improving people's livelihoods, and the Government is keen to adopt a mix of solutions to achieve Universal Access," said WWF Conservation Manager Amani Ngusaru.
"Tanzania's clean energy future must take into consideration integrated energy solutions including renewables and abundant gas deposits in the country," said Dr. Kandeh K. Yumkella, Special Representative of the Secretary-General and CEO, Sustainable Energy for All, on the conclusion of the two-day-long consultations.
For more information on the Sustainable Energy For All initiative, visit www.se4all.org and www.energyaccess.org.
Featured Product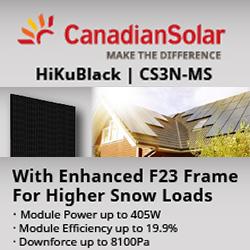 Aesthetic appearance for residential systems: With black backsheet & black frame, Power range 380 ~ 405 W, Low power loss in cell connection. Enhanced reliability: · Low temperature coefficient (Pmax): -0.34 % / °C, LID LeTID less than 2.0%, Lower hot spot temperature, Better shading tolerance.