New generation of Scots hydro developers urged to reach for highest standards
A best-practice guide to building Scottish hydro-electric power schemes has been launched to ensure the industry's positive reputation is maintained during a modern renaissance.

Scotland's renewable energy boom has meant hydro schemes are once again being built in significant numbers across the country, providing green power to homes and businesses.
The sector, which supplies the equivalent of around 12% of the country's electricity needs, became widespread in Scotland after WWII, but a new generation of hydro schemes – and the prospect of enhanced pumped-storage facilities – has given the industry a fresh lease of life in the 21st century.
The Guide to Hydropower Construction Best Practice – produced by Scottish Renewables, the Scottish Environment Protection Agency (SEPA) and Scottish Natural Heritage – is launched today (Feb 12), and will ensure the new hydro pioneers work to the highest standards when building projects.
Joss Blamire, Senior Policy Manager at Scottish Renewables, said: "The hydro-electric power industry has a special place in the heart of rural Scotland, and we want new developments to adhere to the highest possible environmental standards.
"The great post-war boom provided power for the first time to thousands of Scottish households and delivered real improvements to remote communities. Now, as then, hydro provides clean electricity using one thing Scotland has always had – fast-flowing rivers and plenty of rainwater.
"As we are an industry that is at the heart of protecting our environment for the long-term, we have to ensure we maintain standards which protect it in the immediate term, during construction.
"Following these guidelines now will not only do that, but prevent developers having to face further delays and costs further down the line when potential mistakes have to be put right."
The new guide takes hydro developers through a range of areas they need to be mindful of when constructing new schemes. These include:
* Pre-construction issues including weather, timing, wildlife, riverbeds, working on steep ground and understanding the topography of the land;
* Drainage during the construction phase;
* Direct and indirect impacts on the water environment;
* Surface water and habitat management plans;
* Reinstatement and restoration after construction.
Simon Pattullo, Hydropower Specialist from the Scottish Environment Protection Agency (SEPA), said: "As a regulator, it's imperative that new hydro schemes are constructed to a standard that minimises any impact on the natural environment.
"The new guidance launched today provides a clear and concise outline of the standards required across all agencies during the often complex stages of constructing a new development.
"Feedback from the industry has been invaluable in shaping the new guidance and we are confident it will help to streamline future schemes for both developers and regulators."
Brendan Turvey, Policy Manager for Renewables at Scottish Natural Heritage, said: "We're very keen to work with the industry to make hydro developments run as smoothly as possible. The new guidance is a great example of partnership working between the agencies and industry."
Significant opportunities for new hydro schemes remain in Scotland, with the potential to deliver clean energy, reduce carbon emissions from the energy sector and contribute to the country's ambitious climate change targets.
Scottish Renewables' Joss Blamire added: "Changes to the Feed-in Tariff scheme, which supports the development of small-scale hydro projects, have the very real potential to derail the current growth in hydro construction.
"This guidance document is useless if we do not have projects which can compete, and Scottish Renewables continues to urge the UK Government to make changes as part of the forthcoming Feed-in Tariff scheme to safeguard the industry for the long term."
Featured Product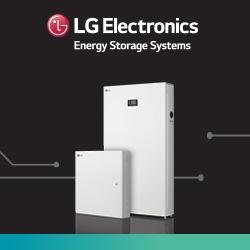 Meet LG Electronics Home 8 Energy Storage System (ESS), a whole home battery backup solution built with installers and their homeowner customers in mind. The ready-to-deploy Home 8 features just one SKU and a modular assembly for fast installation. It can be AC-coupled or solar-powered and is engineered with a grid-connected inverter, four battery modules, and a Smart Energy Box featuring a 7'' LCD touchscreen with commissioning wizard for easy setup. Each Home 8 unit can store up to 14.4 kWh of usable power, helping homeowners gain pure independence from the grid. Plus, installers can connect up to four units, bringing customers up to 57.6 kWh of total backup power-all easily managed and monitored through intuitive mobile apps.