Plan to develop 500MW-1,000MW PV power plants in China within three years
CHANGZHOU, China, Feb. 12, 2015 -- Trina Solar Limited (NYSE: TSL) ("Trina Solar" or the "Company"), a global leader in photovoltaic ("PV") modules, solutions and services, today announced that it has signed a framework investment agreement (the "Agreement") with PingAn Trust Co., Ltd. ("PingAn Trust") and Jiangsu Jiuzhou Investment Group ("Jiuzhou Investment," and together with PingAn Trust, the "Investors") to jointly develop selected photovoltaic power plants ("the Projects") in China, with a total capacity of 500MW-1,000MW over the next three years.

Under the terms of the agreement, the Investors will enter convertible loan arrangements with Trina Solar to support the development of downstream projects in China. The Investors are entitled to convert the loans into minority stake in the project companies at pre-determined time. The investors are also entitled to participate in the potential capital operation of the holding vehicle in the future. To capitalize on growing demand in China and to strengthen Trina Solar's efforts in the downstream business the Company established Jiangsu Trina Solar Power Investment & Development Co., Ltd. under the above-mentioned holding vehicle at the end of 2014.
In addition, the Investors will provide bridge loans after completing due diligence on the Projects in order to meet their funding needs during the construction phase. The convertible loans and the bridge loans will not prevent the project companies from applying for long-term loans from other financial institutions. The Company and Investors are actively evaluating the portfolio of projects that need to be financed.
"We are excited to partner with strategic investors such as PingAn Trust and Jiuzhou Investment," said Mr. Jifan Gao, Chairman and Chief Executive Officer of Trina Solar. "By leveraging their financial strengths with our proven expertise in manufacturing and power plant development, we have a unique ability to build a superior and professional downstream development and operation company. In recent years, China's demand for new energy has been growing quickly. According to the government's plan, China's photovoltaic power installation capacity will reach over 100GW by 2020. Ever since the full-scale launch of our downstream business in 2013, we have made a number of significant achievements. In 2015, we will use this strategic collaboration as an opportunity to further reinforce and expand our leading position in China's PV market."
"We are delighted to work with Trina Solar to jointly develop solar projects in China that will generate stable and recurring cash flows in line with our investment strategy and the Chinese government's objectives," said Mr. Yuhang Li, General Manager of Industry Department of PingAn Trust. "We are excited to work with the leading company in the solar industry, and we believe the combination of the financing from the investors along with Trina Solar's industry expertise will be a win-win for all parties."
Mr. Shijin Luo, President of Jiuzhou Investment, added, "Jiuzhou Investment was a first round PE investor in Trina Solar prior to its initial IPO and has witnessed the Company's development into a leading player in the global PV industry. We are pleased to team up with Trina again to develop this downstream business. China is now in a new era of energy reform as it looks to promote green energy including solar energy production and consumption. As the world's largest solar module manufacturer with an established global brand, Trina Solar has made steady progress in the downstream business in recent years. We view Trina as a trusted partner for our move into the solar energy business."
About Trina Solar Limited
Trina Solar Limited (NYSE: TSL) is a global leader in photovoltaic modules, solutions and services. Founded in 1997 as a PV system integrator, Trina Solar today drives smart energy together with installers, distributors, utilities and developers worldwide. The company's industry-shaping position is based on innovation excellence, superior product quality, vertically integrated capabilities and environmental stewardship. For more information, please visit www.trinasolar.com.
Featured Product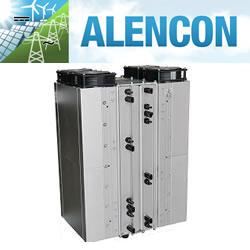 Alencon Systems is the premier manufacturer of high power, high voltage DC:DC optimizers for alternative energy applications including solar, battery energy storage, Microgrids, Fuel Cells and Electric Vehicle charging. Alencon's DC:DC converter offerings include the SPOT, BOSS and CUBE series DC:DC converters. The SPOT is a modular, uni-directional DC:DC solution ideal for solar applications. The BOSS is a modular, bi-directional unit for use with battery energy storage. The CUBE is a monolithic DC:DC converter which is available in both uni-directional and bi-directional modalities. Pictured above, is the Alencon SPOT.