As shipments rise, inverter prices will continue to fall.
In a new report, GTM Research estimates global shipments of PV inverters reached 38.7 gigawatts (AC) in 2014 and will exceed 50 gigawatts in 2015. Shipments will continue to grow at an average annual rate of 13.1 percent through 2018.

In the same time frame, the global market for inverters will reach $7.1 billion, representing an average annual growth rate of just 2.8 percent. According to the report, The Global PV Inverter Market 2015: Technologies, Markets and Prices, the discrepancy between shipment and valuation growth is caused by falling inverter prices, which GTM Research expects to drop, on average, 9 percent per year between 2014 and 2018.
"We believe the market will grow in 2015 and 2016 after declining each of the last two years," said report author and GTM Research solar analyst Scott Moskowitz. "The European market has likely experienced its low point, and the U.S. market continues its surge. As a result, we expect significantly higher market values in the next two years in spite of falling inverter prices."
According to the report, there is a strong focus right now on lowering balance-of-systems costs by using distributed inverters. "As the market shifts toward distributed architectures," said Moskowitz, "microinverters and three-phase string inverters are gaining market share and will experience the fastest growth rates among all inverter types."
In addition to providing shipment data, pricing and forecasts, the report profiles 45 vendors across the global PV inverter landscape.
The competitive landscape shifted dramatically between 2009 and 2013. In 2009, the top ten inverter vendors accounted for 82 percent of global shipments, and in 2013, that figure fell to just 58 percent.
In the new report, GTM Research identifies four primary strategies that inverter vendors are using to cope with or take advantage of this market shift: internationalizing sales, optimizing supply chains to lower costs, diversifying out of pure inverter sales into O&M and monitoring, and innovating inverter functionality to include capabilities for energy storage and hybrid power system integration.
"Inverter vendors have lived in a reality of exceptional price pressure, increased competition, and shifting demand for the last several years," said Moskowitz. "There are opportunities in the market, both near- and long-term, but these market pressures will continue after 2015. As a result, it remains imperative that vendors be nimble in responding to shifting markets, advanced grid code requirements, and customer needs. "
For more information on the report, visit http://www.greentechmedia.com/research/report/the-global-pv-inverter-landscape-2015.
Featured Product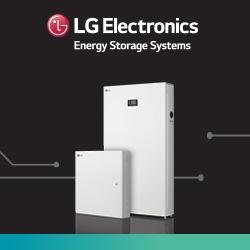 Meet LG Electronics Home 8 Energy Storage System (ESS), a whole home battery backup solution built with installers and their homeowner customers in mind. The ready-to-deploy Home 8 features just one SKU and a modular assembly for fast installation. It can be AC-coupled or solar-powered and is engineered with a grid-connected inverter, four battery modules, and a Smart Energy Box featuring a 7'' LCD touchscreen with commissioning wizard for easy setup. Each Home 8 unit can store up to 14.4 kWh of usable power, helping homeowners gain pure independence from the grid. Plus, installers can connect up to four units, bringing customers up to 57.6 kWh of total backup power-all easily managed and monitored through intuitive mobile apps.