Contracts 24 Million Pounds Steel for 500MW Customer Demand
NEW YORK – February 13th, 2015 – GameChange Racking today announced that it has contracted an initial 24 million pounds of steel as well as additional aluminum to meet the first half of 2015's 500 megawatts of customer demand for GameChange's pile driven ground, ballasted ground and rooftop solar PV racking systems. GameChange provides PV mounting systems for medium and large commercial and utility scale installations.

Andrew Worden, CEO of GameChange Racking, stated:
"GameChange Racking has secured backlog and pipeline for sales of over 500MW in 2015 and nearly 1,000 MW in 2016. With four roll forming plants, three aluminum extrusion facilities and three metal fabrication operations nationwide, we are poised to meet the rapid growth rate we are experiencing as the US PV solar industry sets new records.
Solar EPCs and developers need to earn superior returns on investment on their solar projects and are continuously demanding superior quality but only at value pricing.
GameChange Racking has industry leading innovation, manufacturing economies of scale, world class quality and bankability, and leading customer service. These have combined to allow GameChange to secure relationships with over half of the industry's leading 200 commercial and utility scale system builders and owners."
Featured Product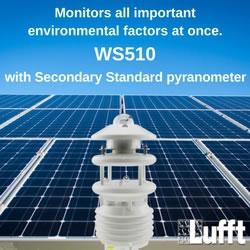 First and only Smart Weather Sensor with integrated Kipp & Zonen CMP10 Pyranometer (secondary standard). From the WS product family of professional intelligent measurement transducers with digital interface for environmental applications. Integrated design with ventilated radiation protection for measuring: Air temperature, relative humidity, air pressure, wind direction, wind speed and radiation. One external temperature or rain sensor is connectable.