Pension fund involvement – a first for Green Investment Bank – demonstrate scale of opportunity for investors
A £60m boost for community-scale renewable energy projects has been welcomed by industry body Scottish Renewables – on the day it is announced the first four projects to benefit will be hydro-electric schemes in rural Scotland.

The cash heralds a new era in green energy funding, as a pension fund invests alongside the UK Green Investment Bank for the first time.
Joss Blamire, Senior Policy Manager at Scottish Renewables, which represents 330 companies working in green energy in Scotland, hailed today's investment announcement as "proof that renewables offer an incredible opportunity for communities across Scotland, as well as valuable returns on private investment" – but warned dark days may lie ahead for the hydro sector.
He said: "DECC figures show the small-scale hydro sector could be set to double over the next couple of years – but only if finance like this is available, and if schemes can be built in time to reach deadlines for construction.
"The Feed-in Tariff (FiT), through which small-scale hydro projects are supported, is currently set up to produce a boom-and-bust scenario for small scale hydro, with the recent flurry of activity potentially ending due to severe cuts in support – a situation which must be addressed as part of the forthcoming review of the FiT scheme."
DECC figures today (Feb 17) indicate 70MW of new hydro projects are currently approved for construction UK-wide – potentially doubling the 59.9MW of projects which have been constructed since the start of the Feed-in Tariff support mechanism in 2010.
Today's UK Green Investment Bank announcement comes days after the launch of a Guide to Hydropower Construction Best Practice, designed to help developers protect the environment as the sector gears up to build a number of planned schemes in the next two years.
Mr Blamire continued: "Schemes like the ones which have been awarded funding here demonstrate the depth of opportunity available in this sector, and Scottish Renewables continues to urge the UK Government to make changes as part of the forthcoming Feed-in Tariff scheme review to safeguard the industry for the long term.
"Backing small-scale renewables has the potential to bring huge benefits to investors, the Scottish workforce and the environment"
The four Scottish projects named today will be developed by Scottish Renewables member Green Highland Renewables in Stirlingshire, Wester Ross and Inverness-shire.
The £60m made available in this announcement is made up of £50 million from the UK Green Investment Bank and £10 million from the Strathclyde Pension Fund.
Featured Product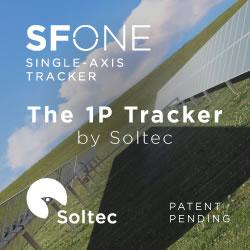 Soltec manufactures and supplies solar trackers designed and proven for extreme climate conditions, which is an ideal solution for any region's environment. Soltec's trackers are self-powered, requiring no additional PV module or grid-powered connection. Bifacial modules collect energy on both the front and rear sides, capturing reflected irradiance from the ground surface under and around the tracker and from other modules. Depending on site conditions, bifacial yield-gain can reach +30 percent.