EDF Renewable Services operates over 9.3 gigawatts of wind, solar and biomass projects throughout the US, Canada, and Mexico.
SAN DIEGO--EDF Renewable Services (EDF RS), the leading provider of renewable O&M Services in North America, announced today it has entered into a contract with Starwood Energy Group Global, LLC (Starwood Energy), a private equity investment firm based in Greenwich, CT, to provide operations and maintenance for their Stephens Ranch Wind Energy Project (Phase I). The 211 megawatt (MW) project comprised of General Electric (GE) 1.79 MW turbines reached commercial operation in November 2014.

Dalen Copeland, Director of Business Development for EDF Renewable Services, commented, "We are pleased to provide operations and maintenance for Starwood's energy asset; we look forward to a long and successful relationship between our companies. This project adds to our experience and workforce in Texas and further allows optimization of our services and increased technical strength in the area."
Under the terms of the agreement, EDF Renewable Services will provide a suite of operations and maintenance services for wind turbine generators including remote services performed by the company's NERC registered Operations Control Center (OCC). The OCC provides an efficient, reliable, and secure operating platform, while benefiting from the centralization of SCADA functions and consolidation of multiple vendor environments to provide a common operating view. With enhanced service offerings with strategic partnerships, EDF RS brings auxiliary engineering and SCADA solutions to its customers.
EDF Renewable Services operates over 9.3 gigawatts of wind, solar and biomass projects throughout the US, Canada, and Mexico, employing over 500 people in positions ranging from on-site technicians to control center operators, data analysts and performance engineering. EDF Renewable Services has the resources and experience to optimize project availability and maximize revenues.
About EDF Renewable Services:
EDF Renewable Services is the leading third-party provider of operations and maintenance services in North America. With 28 years of experience, EDF Renewable Services understands renewable energy facilities represent a substantial investment. The company takes an owner-operator approach to ensure maximum returns on the asset, full project value, and ongoing profitability for new and existing facilities. As part of a global organization with utility-scale wind and solar plants, the company brings depth of experience to every project. With more than 9.3 gigawatts of wind, solar, and bioenergy under contract, EDF Renewable Services is the trusted leader in O&M. For more information visit: www.edf-renewable-services.com
Featured Product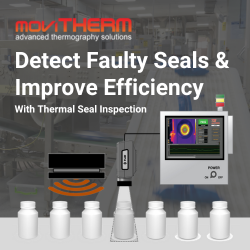 MoviTHERM's Thermal Seal Inspection (TSI) solution provides precise and reliable detection of defects in a variety of packaging types, including pouches, bags, blister packs, bottle caps, and more. By detecting defects in your packages, the TSI solution helps increase efficiency in your production line and ensures top-quality packaging is delivered to your customers every time. With state-of-the-art technology and an experienced team, MoviTHERM is dedicated to delivering accurate inspection solutions and peace of mind to its clients. Contact MoviTHERM today to learn more about their thermal seal inspection solution.