Retired Sunbury coal-fired power plant to be replaced in one of the largest coal to natural gas conversion projects in the United States ----Power facility to help support long-term market for Pennsylvania Marcellus Shale gas producers and royalty owners ----Plant expected to make a significant contribution to area economy; create 800 total construction jobs ----Environmentally friendly plant will power more than 1 million homes
DALLAS — Feb.17, 2015 — Panda Power Funds has entered into a joint venture with Sunbury Generation LP to develop, finance, construct and operate a 1,000 megawatt natural gas-fueled, combined-cycle power project near Shamokin Dam in Snyder County, Pennsylvania. The 30-acre Panda "Hummel Station" power facility will occupy part of the 192-acre Keystone Opportunity Expansion Zone at the site of the recently retired Sunbury coal-fired power plant. To date, Hummel Station is expected to be one of the largest coal to natural gas conversion projects in the United States. The plant is expected to supply large power markets, including Philadelphia and New York City, when it enters commercial operations in the second half of 2017.

The facility's access to Marcellus Shale gas through the Marc I, Regency and Transcontinental regional gas pipelines is expected to provide Hummel Station with a significant operating cost advantage. The plant will interconnect to the pipelines through a 35-mile lateral that will be constructed by a subsidiary of UGI Energy Services. UGI commenced the permitting process for the pipeline with the Federal Energy Regulatory Commission in December 2014 after completing a year of environmental and cultural surveys.
"I'm extremely proud of the Panda team in their work with Sunbury Generation and UGI Energy Services to complete the lateral pipeline agreement. Finalizing the agreement makes the entire project possible," said Todd W. Carter, president and senior partner of Panda Power Funds. "We continue to see Pennsylvania as a great place to invest and are strengthening our roots here by partnering with well-established companies in the Commonwealth."
"We found a great partner in Panda," added Dave Meehan, president of Sunbury Generation. "They currently have more generating capacity under construction in the United States than any other company. They have a deep bench in the power industry and know what they are doing."
Panda Power Funds has two Marcellus gas-fueled generating stations currently under construction in Bradford and Lycoming counties. The 829 megawatt "Liberty" power plant, located in Towanda, Pennsylvania, is expected to enter commercial operations in the first quarter of 2016. The 829 megawatt "Patriot" power plant, located near Williamsport, Pennsylvania, is expected to enter commercial operations in the second quarter of 2016.
Job Creation and Economic Benefits
Panda's Hummel generating station is expected to bring significant benefits to the region during construction and the life of the facility. Approximately 500 jobs will be created to construct the power plant over a two and a half year period. The generating station will create approximately 27 direct, long-term jobs to run the facility and 45 indirect jobs within the community to support the plant. Construction of the 35-mile pipeline lateral is also expected to create 300 jobs, with several additional permanent jobs created to operate the pipeline over the life of the new facility.
By serving as the anchor tenant in the Sunbury Keystone Opportunity Expansion Zone (KOEZ), Hummel Station will also support additional investment at the site of the retired coal plant. "Our dream has been that Hummel Station will attract other industrial tenants to the KOEZ site being developed by our affiliate Arcova Development LLC.," Meehan said.
The power facility will also help support a long-term market for Pennsylvania Marcellus Shale gas producers and royalty owners.
Environmental Benefits
The state-of-the-art Hummel Station generating facility will utilize the latest, most advanced emissions-control technology, making it one of the cleanest natural gas-fueled power plants in the nation. While the new power station will supply 260 percent more power than the coal plant it replaces, key air emissions will be reduced by approximately 97 percent. The Hummel Generating Station will also use 97 percent less water for cooling purposes than the retired coal-fired Sunbury plant.
The existing ash basin and impoundment area will be closed under the Pennsylvania Department of Environmental Protection (PADEP) regulations. The Hummel project received its air permit from the Pennsylvania Department of Environmental Quality in September 2014. The project has also received its water use and land development permits.
The generating station will be located on the west bank of the Susquehanna River in Shamokin Dam Borough, Pennsylvania. An engineering, procurement and construction contractor has not yet been selected. Construction will take approximately 30 months and will commence upon financing and other conditions.
About Panda Power Funds, LP
Founded in 2010, Panda Power Funds is a private equity firm headquartered in Dallas, Texas that can develop, acquire, construct, finance and operate large scale, natural gas-fueled power generation facilities. Panda has two combined-cycle power plants in operation in Temple and Sherman, Texas, and four combined-cycle power plants currently under construction in Texas, Pennsylvania and Virginia with a combined capacity of more than 4,700 megawatts. Panda Power Funds also has an 859 megawatt power project in Southern Maryland in advanced development. The fund built a 20 megawatt solar farm in southwest New Jersey that is one of the largest solar facilities in the Northeast United States. Additional information on Panda Power Funds can be found at www.pandafunds.com.
Featured Product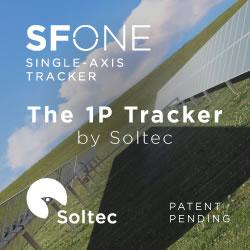 SFOne is the 1P single-axis tracker by Soltec. This tracker combines the mechanical simplicity with the extraordinary expertise of Soltec for more than 18 years. Specially designed for larger 72 an 78 cell modules, this tracker is self-powered thanks to its dedicated module, which results into a lower cost-operational power supply. The SFOne has a 5% less piles than standard competitor, what reduces a 75% the labor time.