Panels will be used in projects across Latin American market
New York February 23, 2015 – International renewable energy company Greenwood Energy today announced it has agreed to purchase solar panels from China-based JA Solar to supply a portion of Greenwood's projects in the fast-growing Latin American region.

JA Solar will supply an initial 50 megawatts (MW) of solar panels for Greenwood projects in Panama. The agreement also contemplates a potential additional commitment of at least 50MW for other Latin American projects at an agreed price for deployment within 18 months. The polycrystalline photovoltaic panels will be manufactured in China, and have an estimated output of 260 to 320 watts per panel.
"This agreement is an exciting step forward on our expanding Latin American solar portfolio," said Camilo Patrignani, CEO of Greenwood Energy. "JA Solar is an attractive partner due to its proven record of delivering efficient panels, and although we are just beginning this first project together, we are already seeking additional opportunities to work together to cut power costs and emissions across the region."
Latin America is one of the world's fastest-growing solar markets. A pipeline of over 22 gigawatts (GW) new capacity is being planned for the region, with an estimated 2.3 GW expected to be connected in 2015 alone. Greenwood currently has a 3GW project pipeline across Latin American, including projects in Chile, Panama, Mexico, and the Caribbean.
"We are excited to partner with Greenwood as we further develop our presence in Latin America," said Mr. Jian Xie, President of JA Solar. "Greenwood Energy is a leader in renewable power development in Latin America, with additional attractive growth initiatives around the globe. We look forward to working closely with Greenwood in all major solar markets."
For more information
Greenwood Energy, Silvio Marcacci (202) 643-8210 silvio@marcaccicomms.com
###
About Greenwood Energy
Greenwood Energy (www.gwenergy.com) is the international clean energy division of the Libra Group (www.libra.com), a privately owned international business group comprising 30 subsidiaries operating across five continents. Greenwood's business interests span investment, development, and operation of utility-scale solar and wind energy projects, as well as other clean energy technologies. The Libra Group is focused on shipping, aviation, real estate, hospitality and renewable energy as well as selected diversified investments. In addition to Greenwood's clean energy interests in the Americas, Libra Group companies own and operate solar farms, wind parks, and biogas facilities throughout the Mediterranean and Northern Europe.
About JA Solar
JA Solar Holdings Co., Ltd. is a leading manufacturer of high-performance solar power products that convert sunlight into electricity for residential, commercial, and utility-scale power generation. The Company is one of the world's largest producers of solar power products. Its standard and high-efficiency product offerings are among the most powerful and cost-effective in the industry. The Company distributes products under its own brand and also produces on behalf of its clients. The Company expects to ship 3.1 GW to 3.2 GW of solar power products in 2014. JA Solar is headquartered in Shanghai, China, and maintains production facilities in Shanghai, as well as Hebei, Jiangsu and Anhui provinces. For more information, please visit www.jasolar.com.
Featured Product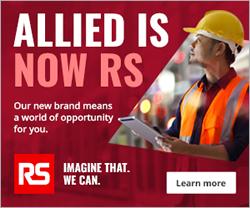 Imagine a global, end-to-end partner for industry - dedicated to solving your problems so you can drive your business forward. We can. On February 6, 2023, we officially changed our name to RS. It's just one way we're evolving to make our partnership and doing business with us even more rewarding. As RS, you have access to more support, more expertise, and more possibilities for your big and small projects - from concept and design to build and maintenance. Going forward, you'll see the RS logo on our website, social media, communications, and packaging. And rest assured, our current systems and procedures will remain intact to seamlessly process your order.