-- Announces goal to electrify underserved communities at New York Summit on rural electrification
BELMONT, California, Feb. 25, 2015 -- SunEdison, Inc. (NYSE: SUNE), the world's largest renewable energy development company, today announced an ambitious plan to electrify 20 million people in underserved communities around the world. The initiative will be led by SunEdison Social Innovations, a global group focused on developing new business models and new technologies which make renewable energy in rural communities economically sustainable over the long term, while also contributing to social and environmental benefits to the community.

"Billions of people worldwide don't have access to electricity," said Ahmad Chatila, President and Chief Executive Officer at SunEdison. "Without electricity they can't access many of the things we take for granted - health clinics with vaccines, or schools with computers and fans. But by applying a mix of new business models, new technology, and charitable donations, we are tackling the issue head on. We are committing to bringing electricity to one million people by the end of 2015, and are targeting to help 20 million people gain access to electricity by 2020."
The Social Innovations team has already started working toward its goal and has helped more than 250,000 people worldwide through strategic partnerships focused on three key areas: new business models, new technology, and charitable donations.
New business models
SunEdison is developing new ways to bring electricity to the people who need it most through a series of partnerships and innovative business models.
In India, SunEdison and Omnigrid Micropower Company (OMC) are electrifying rural villages by pairing commercial solar customers with local villagers. Telecom companies need their cellular towers powered. Villagers need electricity. A solar electric mini grid providing electricity for both of them is the answer. The mini grid is first built to power the tower – the tower becomes the anchor for the project. With this in place, SunEdison and OMC develop additional mini grid capacity that can be sold to the local villagers. By pairing high credit telecom companies with low to no credit villagers the entire project becomes bankable. It is a mutually beneficial relationship – the telecom companies save money by powering their telecom towers with cost effective solar energy, while the hundreds of families that live around each tower get access to electricity that can be used for lights, fans and mobile phone chargers. With a target of 5,000 solar power plants to be developed over the next 5 years, the SunEdison-OMC partnership expects to help more than 10 million people.
In Nepal, SunEdison is partnering with SunFarmer to amplify the benefits of electricity by providing solar systems to remote hospitals, health clinics, and schools. Their latest innovation is a five to seven year rent-to-own loan. The loan was designed to fit the needs of less affluent organizations by spreading the cost of the solar system over a longer term than is typically available. Financed in this way, solar delivers lower cost energy than diesel generators and brings with it the certainty that the energy prices are not going to fluctuate.
To date, SunFarmer and SunEdison have positively impacted 250,000 people to date through this program and are set to expand to geographic regions beyond Nepal, with the goal of bringing electricity to 7 million people by 2020.
New Technology
The new Outdoor Microstation is now available for deployment. The Outdoor Microstation is a stand-alone power generation unit that provides renewable and reliable electricity for a variety of off-grid applications in hard-to-service remote areas.
It can be used to quickly and cost effectively power households and small businesses, illuminate public places, supply energy to clinics and health centers, power water pumps or irrigation systems, or provide electricity to telecommunications systems. These systems can be deployed quickly - in less than a day, a village that was dark the night before can experience electricity by sundown As an added benefit, the Outdoor Microstation protects against rising and fluctuating diesel fuel costs.
The Outdoor Microstation comes in two versions: a 3,500 volt-amperes version and a 650 volt-amperes version. The Outdoor Microstation 3500 unit can provide power for a rural community of up to 25 households, including street lighting, for 5 hours each night. The 650 volt-amperes unit can provide electricity for up to 10 households for five hours each night. Both models are equipped with high capacity batteries that can provide three days of autonomy under any weather condition. The system is low maintenance and is designed to ensure steady operation under almost any conditions, thanks to its quality components and its rugged weatherproof design.
To view the new SunEdison Outdoor Microstation video please visit: youtu.be/KEFlpqpE8NE.
Charitable Donations
SunEdison and the SunEdison Foundation are engaged in a variety of charitable initiatives dedicated to empowering people and improving lives. To maximize the benefits of electrification in the local community, the SunEdison Foundation focuses on providing clean energy solutions for health clinics and schools.
"We have donated and installed 344 kilowatts of solar systems for 28 schools and clinics to date, which has positively impacted more than 16,000 people," said Alakesh Chetia, President of Social Innovations at SunEdison. "Our latest donation is a 5.2 kilowatt system installed at a school on the off-grid island of Gilutongan, in the Philippines. This system is the largest system ever donated to an island in the Philippines. The school had no access to electricity during the day to power the 11 computers owned by the school. By donating a solar system to the school, we have given these children a means to learn with computers. This will improve computer literacy for the area, which will have a powerful economic impact further down the road as the children enter the job market."
Recently, the SunEdison Foundation made a charitable donation to the Self Employed Women's Association (SEWA) to help salt farmers in the Little Rann of Kutch in Gujarat purchase solar water pumps. The pilot phase of the program has been very successful; the donation has enabled the purchase of 200 solar water pumps. SunEdison hopes to move all 17,000 SEWA members from diesel to solar water pumps over the next 5 years by bringing in additional funding from finance partners.
Mr. Chetia concluded: "Bringing electricity to 20 million people by 2020 will require not only new business models, new technologies, and charitable work, but also partnerships. We all benefit when we work together. At SunEdison we're committed and engaged, and we want to magnify our efforts by connecting with others who are equally engaged."
To find out more about SunEdison Social Innovations and our mission please visit www.sunedison.com/social_innovations.
About SunEdison
SunEdison is the world's largest renewable energy development company and is transforming the way energy is generated, distributed, and owned around the globe. The company manufactures solar technology and develops, finances, installs, owns and operates wind and solar power plants, delivering predictably priced electricity to its residential, commercial, government and utility customers. SunEdison is one of the world's largest renewable energy asset managers and provides asset management, operations and maintenance, monitoring and reporting services for its renewable energy customers around the world. Corporate headquarters are in the United States, with additional offices around the world. SunEdison's common stock is listed on the New York Stock
Featured Product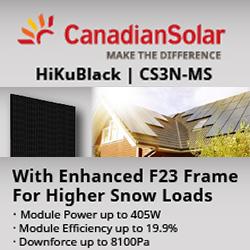 Aesthetic appearance for residential systems: With black backsheet & black frame, Power range 380 ~ 405 W, Low power loss in cell connection. Enhanced reliability: · Low temperature coefficient (Pmax): -0.34 % / °C, LID LeTID less than 2.0%, Lower hot spot temperature, Better shading tolerance.