Racking Systems Must Be Tested to ANSI/UL 2703 by July 2016; Solar Tracker Conformance to UL Subject 3703 & IEC 62817 Available at Same Location
Tempe, Ariz., February 24, 2015 – After years of testing photovoltaic (PV) mounting systems to internal standards as well as to UL Subject 2703, TÜV Rheinland PTL has begun testing and certifying ground and roof-mounted racking systems and clamping devices in accordance with the First Edition of UL 2703 recently approved by the American National Standards Institute.

TÜV Rheinland PTL also has extensive experience testing tracker systems in accordance with UL Subject 3703 and now evaluates solar trackers in accordance with the new IEC 62817 standard. Moreover, the organization can perform UL 2703, UL Subject 3703 and IEC 62817 qualification programs simultaneously at the same location.
"UL 2703 Standard for Safety Mounting Systems, Mounting Devices, Clamping/Retention Devices, and Ground Lugs for Use with Flat-Plate Photovoltaic Modules and Panels" fills the gap in the North American safety standards addressing PV mounting and racking systems. It ensures proper bonding and grounding, modifies mechanical load testing and aligns fire test requirements with UL 1703. The standard covers products up to 1000V and will be required for North American installations beginning July 28, 2016 when UL SU 2703 (Issue 2) will no longer be valid.
TÜV Rheinland PTL has extensive experience testing PV racking systems, having developed and tested to an internal standard prior to the availability of UL Subject 2703. The organization has also developed expanded PV mounting system testing services to enable manufacturers to further enhance their reliability, durability, and bankability claims.
Additionally, TÜV Rheinland PTL can qualify tracker systems to the "Outline of Investigation for Solar Trackers" UL Subject 3703, which includes safety evaluation for tracker controllers and associated components to help mitigate risks of electrical shock, adverse weather conditions (e.g., high wind stow) and mechanical failure (e.g., locked rotor). Moreover, the standard includes a requirement for all associated racking, mounting and accessory products to be evaluated for UL 2703 conformance.
The new IEC 62817:2014 standard, "Photovoltaic Systems – Design Qualification of Solar Trackers," provides expanded functional characterization of tracking systems for trackers up to 1000V used in PV systems and other solar applications. Although it is not a required standard, manufacturers may obtain a competitive advantage in the market if they claim IEC 62817 conformance.
A value-added feature of working with TÜV Rheinland PTL is that the organization can perform all conformance programs at the same facility at the same time.
For more information about TÜV Rheinland PTL, visit www.tuv.com/us/ptl or contact Ruhi Bharti, Technical Sales Engineer, at rbharti@us.tuv.com or (480) 966-1700, ext. 150 or Sarah Reynolds, Sales Engineer, at sreynolds@us.tuv.com or (480) 966-1700, ext. 154.
About TÜV Rheinland
Founded in 1872, TÜV Rheinland is a global leader in independent testing, inspection, and certification services, ensuring quality and safety for people, the environment and technology in nearly all aspects of life. The company maintains a presence in 500 locations spanning 66 countries, employs 18,000 people and has an annual revenue of $2.2 billion (€1.6 billion). TÜV Rheinland inspects technical equipment, products and services, oversees projects and helps to shape processes for a wide variety of companies through its worldwide network of approved labs, testing facilities and education centers. Since 2006, the company has been a member of the United Nations Global Compact to promote sustainability and combat corruption. For more information, visit www.tuv.com/us.
Featured Product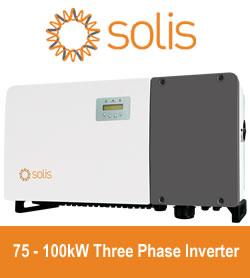 Solis75kW - 100kW series high-power string inverters are widely used in industrial and commercial rooftops. Solis's new three-phase string inverter is the first choice for industrial and commercial photovoltaics. 75-100kW three phase series string inverter have Maximum 28 strings input, support "Y" type connection in DC side. Maximum string input current 13A, support bifacial modules access.Supports anti-PID function to improve system efficiency.