Stop by booth #211 and see what's new
Boston, MA

Industry leader EcoFasten Solar® works closely with the top solar developers, racking system providers, roofing manufacturers, and commercial installation companies to develop breakthrough watertight solar roof mount solutions that are versatile, simple, and secure. All of the products in the EcoFasten line are manufactured in-house in Morrisville, Vermont, which allows for complete control over the product design, development and manufacturing phases. Comprised of a team rich with talent and ability, EcoFasten Solar produces reliable systems that do what they say they'll do. The EcoFasten Solar difference is the patented compression technology.
COME SEE US AT BOOTH #211
-----------------------------------------------------
Committed to the connection
We all know that to mount a solar panel to a roof, you need to know as much about the roof construction as you do about the panel function. In fact, you need to know more. Founded by a former roofer with decades of hands-on experience, EcoFasten Solar is the company that was born to bridge the gap between the people who design the solar arrays and the people who install them.
EcoFasten Solar roof mounts and components utilize the same patented watertight compression technology that has been used by its Sister company, Alpine SnowGuards, in the rooftop mounted snow retention industry since the mid-1990's. This simple, yet secure technology creates an impermeable moisture barrier under even the most extreme conditions.
All EcoFasten Solar products are rugged by design, employing fabrication and quality manufacturing principles that will maintain the integrity of the roof without voiding roofing manufacturer's warranties. Every EcoFasten product meets roofing industry best practices, as well as International Building Codes, International Residential Building Codes, and State Building Codes.
There's a good reason the top installers in the U.S. rely on EcoFasten Solar:
Fastest, easiest, most straightforward installs in the industry
Most cost effective solutions available
Versatile designs for all roof types - new or retrofit
Patented, watertight compression technology
Made in the USA using recycled materials
Featured Product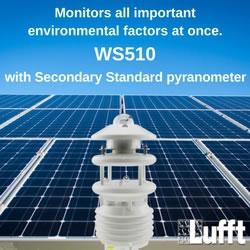 Professional weather sensors form the heart of large solar plants supporting their operation and performance. Lufft was the first manufacturer to combine several sensors in one housing, bringing the largest multiparameter weather sensor family with 19 members into being. Many of them are well-suited for solar site assessment and continuous monitoring. The most commonly used one is the WS600 delivering data on temperature, air pressure, wind, relative humidity and precipitation. Through its open protocol, it can easily be attached to radiation sensors e.g. from Kipp&Zonen. Other models have an integrated Silicon, Second Class or Secondary Standard radiation sensor.