Code named "Marsh Farm", the project is located at Trowbridge in Wiltshire and is expected to be grid-connected under the 1.4 Renewable Obligation Certificates scheme this month.
MUNICH, March 3, 2015 -- ET Solar, a leading smart energy solutions provider, announces that ET Solutions AG, its wholly owned turnkey solar energy solutions provider, has completed the construction of a 9.1 MWp ground-mounted solar farm project in partnership with solar energy specialist Hilperton PV.

Code named "Marsh Farm", the project is located at Trowbridge in Wiltshire and is expected to be grid-connected under the 1.4 Renewable Obligation Certificates scheme this month. Over its lifetime, the project will address the electricity requirement of approximately 3,000 households and significantly reduce carbon footprint in the region.
Hilperton PV was first established in 2013 as a subsidiary of Gaiger Solar Ltd, a company set up by the directors of Gaiger Bros Ltd, to develop and manage the brand new solar park, which has been funded by a GBP4.5 million loan facility from Lloyds Bank Commercial Banking. An additional GBP2.3 million funding from Lloyds Bank has also been provided to Gaiger Bros, to further support the creation of the site.
ET Solar acts as a sole EPC provider for this project, which is its second largest solutions project in the UK market so far. Professional EPC services and state-of-the art module products are critical reasons to achieve short construction period and high performance ratio. High standards of construction management by the strongly experienced ET Solar German engineering team will ensure all technical requirements for an excellent performance during the solar farm lifetime are met.
"In collaboration with Hilperton PV, our trusted partner, Marsh Farm will consolidate our market leadership and strengthen our track record in providing solutions to develop and build up utility-scale solar power plants on a global basis and specifically in the UK," said Dennis She, President and CEO of ET Solar.
"Marsh Farm marks a new milestone in the development of a sustainable solar energy portfolio for the UK, one of the top solar markets in the world," noted Sam Gaiger, director of Hilperton PV. "The local community will benefit enormously from ET Solar's high quality solar modules and industry-leading EPC services."
Commenting on the new solar park, senior manager and head of Lloyds Bank's South West Manufacturing team, Richard Davis, said: "This is an exciting time for both Hilperton PV and ET Solar as the lengthy and complex process of constructing Marsh Farm marks a major expansion for both firms in a fast-growing industry. Hilperton's significant investment in the new solar park reflects its business commitment to improving energy efficiency for residents in the local area, and the funding support from our specialist manufacturing team should ensure that development of the project gets off to the best possible start."
About ET Solar
ET Solar is a leading smart energy solutions provider. With innovative solar technologies and tailored finance solutions, ET Solar provides professional one-stop solutions throughout the entire solar power plant lifecycle that includes development, financing, engineering, procurement, construction, and operations and maintenance. To learn more about ET Solar and ET Solutions AG, please visit www.etsolar.com and www.etsolutions.de.
About Gaiger Solar
Founded in 2013, Hilperton PV is a subsidiary of Gaiger Solar Ltd, based in Devizes, UK. The company is proud to be investing in the local area and helping to ensure a sustainable future for Wiltshire through its solar farm developments. For more information, please visit www.gaigersolar.co.uk.
Featured Product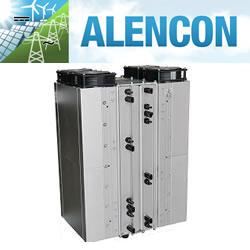 Alencon Systems is the premier manufacturer of high power, high voltage DC:DC optimizers for alternative energy applications including solar, battery energy storage, Microgrids, Fuel Cells and Electric Vehicle charging. Alencon's DC:DC converter offerings include the SPOT, BOSS and CUBE series DC:DC converters. The SPOT is a modular, uni-directional DC:DC solution ideal for solar applications. The BOSS is a modular, bi-directional unit for use with battery energy storage. The CUBE is a monolithic DC:DC converter which is available in both uni-directional and bi-directional modalities. Pictured above, is the Alencon SPOT.