Cook Medical partnered with Positronic Solar and WINAICO to build one of the largest PERC solar installations in Asia Pacific
World leading medical device manufacturer, Cook Medical, has taken one giant leap to reduce its carbon footprint and power bill, by installing a 706 square metre field of solar panels on its roof in Brisbane. The installation is the largest of its kind in Asia Pacific, utilising advanced solar panel technology called PERC (passivated emitter rear contact).

"We have a roof and lots of sun, so harnessing solar power was an obvious solution to reduce costs for us and the environment. The investment was significant, but even so we expect our solar panels will pay for themselves within 15 years," Barry Thomas, Cook Medical Vice President and Managing Director of Cook Medical Australia said. "Using alternative energy to power manufacturing still isn't mainstream, but given the benefits it's completely logical. We've chosen an extremely efficient technology, and the panels are now offsetting on average 30 per cent of the power we use each day."
The installation of the panels was finished in January, and was carried out by local company, Positronic Solar, who recommended and installed the custom-design. John Inglis, Director of Positronic Solar was impressed by Cook Medical's commitment to alternative energy. "When we put in our proposal we were very honest about what was achievable and the best technology for Cook Medical's solar panels. They appreciated our straightforward approach, and chose an effective solution to offset a significant majority of their power use," said Mr Inglis. "The design utilises Schneider-Electric inverters and WINAICO high efficiency PERC 280 W monocrystalline modules – some of the most advanced technology available. The panels are not only efficient even in low light, but also perform very well at high temperatures – which is of course very important here in Queensland."
Cook Medical Australia was established in 1979 and has grown to a headcount of over 500 people at their headquarters in Eight Mile Plains where its headquarters are based.
Featured Product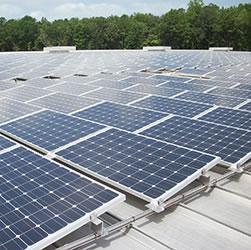 The Power Rail™ Commercial Mounting System is designed with the professional PV solar installer in mind. Both the XD/UD and LD/MD rails feature single tool assembly with the revolutionary patented RAD™ Lock-in-Place bolt for fast and secure module clamping. The high strength marine-grade aluminum rails include an integral wiring channel for securing cables and providing a professional finish.