A new Asia Society/Sunnylands report details partnerships already taking place with various stakeholders
SAN FRANCISCO, March 4, 2015 ó A new report published by the Asia Society in partnership with The Annenberg Foundation Trust at Sunnylands, entitled A Vital Partnership: California and China Collaborating on Clean Energy and Combatting Climate Change, finds that California is undertaking a host of projects with China as part of a significant effort to jointly address the challenge of global climate change. With federal climate protection legislation still not forthcoming, California is taking a lead at the subnational level and building from a bipartisan legacy of efforts to share its experience and expertise with their counterparts in China.

California is already committed to an ambitious goal of an 80% reduction in greenhouse gas emissions below 1990 levels by 2050. To help meet this goal, in 2013 California became the first U.S. state to sign formal memoranda of understanding with various Chinese governmental entities on climate change issues, and the state is actively enlisting California-based research institutes, civil society organizations, utility companies, and private sector companies to further support these efforts.
By supporting these partnerships within California and China, California has helped to create something of a state model for subnational international cooperation on climate change and energy issues .The report also notes that the state has been successful in showing that effective actions to reduce greenhouse gas emissions can be achieved without reducing economic opportunities.
"With Presidents Obama and Xi now committed to meeting ambitious targets for greenhouse gas emissions, both countries will be challenged to meet their obligations without the active participation of states, provinces, and municipalities," Josette Sheeran, President of the Asia Society, noted about the report. "By establishing such an active collaboration with China, California has become a model of innovative practices that make as an excellent model of how 'sub-national' cooperation will be a critical part of any larger global climate change solution."
According to Orville Schell, Arthur Ross Director of Asia Society's Center on U.S.-China Relations, "While the pronouncements by the U.S. and China are an important step towards meaningful international action on climate change, such subnational efforts as those being initiated by the State of California are destined to play a vital role in fulfilling these Sino-US commitments to limit greenhouse gases."
"Both California and China are reaping benefits from their collaborations," says Geoffrey Cowan, President of The Annenberg Foundation Trust at Sunnylands. "Not only are these partnerships uncovering solutions to protect the air, water, and ecosystems within each country, but they are also catalyzing increased trade and investment in clean technology in both countries."
The report outlines several opportunities for an evolving California-China partnership in different sectors of the economy:
Low-carbon electricity systems. California is pioneering the move toward high levels of renewable energy sources, such as wind and solar, while maintaining high reliability and low cost. China is undertaking a similar expansion of non-fossil fuel energy sources. Both sides can benefit from each other's experience and know-how.
Low-emission vehicles. China is looking at how California is addressing its own pollution problems and working with auto manufacturers to build cars that reduce both CO2 emissions and pollutants that damage human health.
Energy efficient buildings, industry, and appliances. California and China face the challenge of determining how to increase consumer uptake of energy efficient technologies, which helps to save energy, avoid the need for new power plans and natural gas pipelines, and reduce pollution from energy supply.
Forestry, agriculture, and waste management. California and China are looking to grow their forests to store carbon and protect ecosystems, as well as reducing greenhouse gas emissions from fertilizer use, livestock operations, and waste treatment facilities.
The report, available in both English and Chinese, will be released at an Asia Society event in San Francisco on March 4. For further information and to download the report, please visit www.AsiaSociety.org/AVitalPartnership.
Featured Product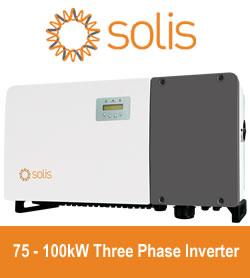 Solis75kW - 100kW series high-power string inverters are widely used in industrial and commercial rooftops. Solis's new three-phase string inverter is the first choice for industrial and commercial photovoltaics. 75-100kW three phase series string inverter have Maximum 28 strings input, support "Y" type connection in DC side. Maximum string input current 13A, support bifacial modules access.Supports anti-PID function to improve system efficiency.