Asian markets dominated by niche BoS suppliers lead the market
Wellingborough, U.K. (March 4, 2015) -- IHS (NYSE: IHS), the leading global source of critical information and insight, today announced that the global photovoltaic (PV) balance-of-system (BoS) market is forecast to grow at an average rate of 5 percent per year, reaching $21 billion in 2019. China, India and other large markets in Asia dominated by niche BoS suppliers, will account for 44 percent of global BoS revenues in 2019. The Europe, Middle East and Africa (EMEA) region is forecast to reach 34 percent of revenues, while the Americas will comprise 21 percent.

According to the "PV Balance of System Equipment – 2015" report, growth in EMEA will be led by the commercial market, which is forecast to reach 11.5 GW in 2019. "The Asian market is also highly attractive for BoS suppliers, especially in the ground-mount mounting market, where local steel manufacturers are very active presently, and this creates a huge opportunity for experienced PV mounting suppliers from EMEA and the Americas to expand abroad," said Cormac Gilligan, senior solar analyst for IHS Technology.
Structural BoS (SBoS), which is composed of ground-mount trackers, fixed-tilt and rooftop mounting systems, will account for 45 percent of the global PV BoS market, reaching $9.3 billion in 2019. Within this category, rooftop-mounting systems are forecast to grow 5 percent per year, due to strong global growth in both the residential and commercial rooftop sectors.
The electrical BoS (EBoS) market, composed of DC cabling, connectors, monitoring hardware and combiner boxes, will grow faster than the SBoS market; revenues are expected to reach just under $3 billion in revenue in 2019. "The EBoS market is set to grow rapidly, primarily because these components will handle higher voltages and assist in arc-fault detection, isolation and other health and safety requirements," Gilligan said.
The scope of the IHS "PV Balance of System Equipment – 2015" report is segmented into electrical BoS products, such as DC cabling, combiner box, connectors, inverters and system monitoring hardware, and structural BoS products, such as rooftop and ground-mount structural mounting products. It covers the total market for PV BoS equipment, which is defined as any part of a PV system's hardware excluding the PV module. The report does not analyze components on the AC side of the inverter (e.g., AC cabling or AC combiner boxes). For more information about this report, visit here.
About IHS (www.ihs.com)
IHS (NYSE: IHS) is the leading source of insight, analytics and expertise in critical areas that shape today's business landscape. Businesses and governments in more than 150 countries around the globe rely on the comprehensive content, expert independent analysis and flexible delivery methods of IHS to make high-impact decisions and develop strategies with speed and confidence. IHS has been in business since 1959 and became a publicly traded company on the New York Stock Exchange in 2005. Headquartered in Englewood, Colorado, USA, IHS is committed to sustainable, profitable growth and employs about 8,800 people in 32 countries around the world.
Featured Product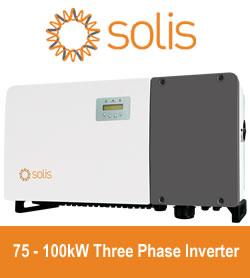 Solis75kW - 100kW series high-power string inverters are widely used in industrial and commercial rooftops. Solis's new three-phase string inverter is the first choice for industrial and commercial photovoltaics. 75-100kW three phase series string inverter have Maximum 28 strings input, support "Y" type connection in DC side. Maximum string input current 13A, support bifacial modules access.Supports anti-PID function to improve system efficiency.