NEXTracker's Advanced Solar Trackers to Support Agribusiness Customers in California and Southwest
CalCom Solar Selects NEXTracker for 100 MW Master Supply Agreement

Advanced Solar Trackers to Support Agribusiness Customers in California and Southwest
FREMONT, CA & VISALIA, CA, MAR 9, 2015 – CalCom Solar, a leader in solar project design and construction for California Agribusinesses and Water Districts, has entered into a 100 MW supply agreement with NEXTracker to serve its agribusiness customers.
"CalCom's principals have over 35 years of solar experience and to date have overseen the construction of over 50 MW of trackers," said Nic Stover, CEO of CalCom Solar. "NEXTracker technology is the greatest proven advancement to emerge in the industry. With CalCom's focus on helping agricultural customers use solar to save on energy costs, NEXTracker is a great offering to lower costs and increase energy production. They've assembled the 'dream team' of the PV racking business; they're very supportive of our needs. We're excited to be deploying NEXTracker for visionary agribusinesses leaders like Woolf Farming and Processing."
"We are very appreciative to be partnering with CalCom Solar and their customers," noted NEXTracker CEO Dan Shugar. "The agricultural sector is well served by solar – and CalCom delivers exceptional expertise in designing, engineering, and constructing solar power systems for agricultural operations. With unimpeded rows and easy construction, NEXTracker offers maximum reliability, performance and profitability. Together, CalCom and NEXTracker are delivering solar systems that generate more energy at lower cost, helping leading growers like Woolf Farming to lower their operating costs with clean solar power."
"Woolf Farming and Processing has a multi-generational legacy of producing more with less while improving the land," said Stuart Woolf, President of Woolf Farming. "Solar is a perfect fit for our vision of sustainable farming, and CalCom Solar and NEXTracker are the best choices for our needs. We are excited to be working together with these great companies to use the power of the sun to not only grow food but provide the energy to process it for our customers."
About NEXTracker, Inc.
NEXTracker (www.NEXTracker.com) offers a significant breakthrough in horizontal tracking technology, with lower costs, better performance and more flexibility for solar power plants. These benefits increase solar project profits for developers, EPCs and system owners. Leveraging world-class design and installation expertise, NEXTracker has delivered trackers for dozens of projects in sizes exceeding 80MW, across three continents. The company is headquartered in California with offices in Asia, Europe and South America.
About CalCom Solar
CalCom Solar, a leading California-based solar provider serving agriculture and water districts, has extensive expertise in Ag energy/water-use optimization. Our founding team has 35 years of solar experience—delivering tremendous value-add for agriculture and water district customers. CalCom has developed proprietary Solar AG Energy (SAGE) analysis software (http://calcomsolar.com/advanced-rate-forecasting ); this revolutionary tool analyzes numerous factors—including historical and future rate increases, water/irrigation patterns, crop types, etc.—to generate the most precise energy projections in the industry. For more information, please visit www.calcomsolar.com.
About Woolf Farming and Processing
Woolf Farming & Processing grows and produces high quality specialty crops to help stock the world's supermarkets, food manufacturers, and restaurants. Each of our processing plants complies with strict quality, safety and real-time tracking requirements that surpass USDA and California Department of Food and Agriculture standards. Our plants also comply with Federal Food, Drug and Cosmetic Act provisions, Good Manufacturing Practices, Kosher Certification, and HACCP Safety program.
Contact:
Susan DeVico
SusanDV@aol.com
(510) 339-1527
Featured Product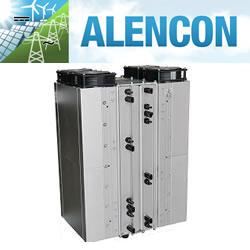 Alencon Systems is the premier manufacturer of high power, high voltage DC:DC optimizers for alternative energy applications including solar, battery energy storage, Microgrids, Fuel Cells and Electric Vehicle charging. Alencon's DC:DC converter offerings include the SPOT, BOSS and CUBE series DC:DC converters. The SPOT is a modular, uni-directional DC:DC solution ideal for solar applications. The BOSS is a modular, bi-directional unit for use with battery energy storage. The CUBE is a monolithic DC:DC converter which is available in both uni-directional and bi-directional modalities. Pictured above, is the Alencon SPOT.