3 new facilities will provide equal access to solar benefits for all rate-payers through CEC's SolarPerks and commercial net-metering credit programs.
BOSTON, MASS. (March 5, 2015) – Broad accessibility and favorable economics, driven largely by economies of scale and priority treatment by Massachusetts's solar renewable energy credit (SREC) program, have made community-shared solar an increasingly popular energy solution throughout the state. To meet demand, leading community solar developer Clean Energy Collective (CEC) announced today that it now has three new solar PV facilities in late stage development in Uxbridge, Massachusetts. The three projects, expected to be completed this June, will be the latest community solar facilities slated to serve National Grid (NGRID) customers and will dramatically increase the availability of renewable energy for the residential and commercial ratepayers across the territory.

To date, only those residential ratepayers with optimally sited roofs could participate in renewable solar solutions. This meant that the majority of rate-payers - those whose roofs were incompatible with the installation of solar panels or that didn't own their roof - could not benefit from the savings afforded by solar or support the Commonwealth's renewable energy initiatives. The vast majority of the market was being left out. Now, through CEC's SolarPerks program community solar provides equal access to renewable energy. SolarPerks makes solar accessible to every residential or commercial ratepayer in the National Grid and former NStar territories of Eversource with no upfront costs, and immediate savings on their electric bill for the next 20 years.
"Our community-shared solar programming is exponentially expanding solar access in Massachusetts providing equal access to all rate-payers," said Tom Sweeney, CEC's chief operating officer. "If you receive an electric bill, you have the opportunity to participate in, and benefit from, the installation of a community solar project."
The three facilities will generate a combined capacity of 3 megawatts (DC), enough to serve an estimated 400 to 500 residential and commercial customers. These projects are projected to produce more than 63 million kilowatt hours (kWh) of clean energy over their lifespan, and generate over $2,000,000 in bill savings for program participants. The environmental benefits equate to a reduction of 125 million pounds of CO2 emissions - the equivalent output of driving 142 million car miles - or the CO2 absorbing power of 193,000 trees.
An anchor subscriber, Attleboro Public Schools is helping make the program possible. Their participation helped achieve the required mix of municipal, commercial and residential participants, opening the program to local residents and small businesses throughout the region. "We love the fact that our participation helps our community in so many ways," says Marc Furtado, Attleboro School District Director of Finance and Controller. "Not only will we save taxpayer dollars on utility expenses associated with the operations of our facilities, but helping to ensure the project will reside within our community opens the door to participation by local businesses and residents."
Demand for community solar and the SolarPerks program has been significant, accelerating CEC's pace of community solar development throughout the National Grid and former NStar territories of Eversource.
Reservations in the residential SolarPerks program are available on a first-come, first-served basis. To learn more, residential customers should visit www.masscommunitysolar.com, or call a solar specialist at (844) 232-7253. Commercial and municipal entities interested in saving through net metering credits are encouraged to contact Clean Energy Collective's Worcester office at (617) 765-7349.
About Clean Energy Collective
Clean Energy Collective (CEC) is the nation's leading developer of community solar solutions. CEC pioneered the model of delivering clean power-generation through large-scale solar PV facilities accessible to all utility customers. Since establishing the first community-owned solar garden in the country in 2010 near El Jebel, Colorado, CEC has built or has under development more than 90 community solar projects with 18 utility partners across 8 states, representing over 100 MW of community solar capacity. www.easycleanenergy.com
Featured Product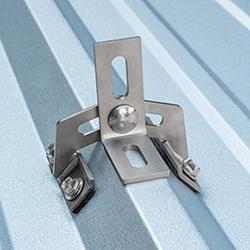 Explore new lines of income for your solar installation business with QuickBOLT's Stone Coated Steel roof mounts designed in partnership with metal roof manufacturers themselves. These SCS roof mounts work on all metal tile profiles and will help you bring in money you're missing out on. By not driving into the roofing material, QuickBOLT's Stone Coated Steel roof hooks maintain the integrity of the roof. Install with ease and confidence knowing your roof is protected against the harsh elements that these hooks are designed for.