Dr. Rinck: "We need to take PV to the next level in terms of cost-effective, integrated electricity supply solutions. Europe has cutting-edge R&D and we can leverage this with industry to achieve a significant future market share in PV products."
Munich, March 09, 2015 –The 31st European Photovoltaic Solar Energy Conference and Exhibition (EU PVSEC 2015) taking place from 14 – 18 September 2015 at the CCH (Congress Centre Hamburg), Hamburg, Germany, will be chaired by Dr.-Ing. Stefan Rinck, Chief Executive Officer of SINGULUS TECHNOLOGIES AG. Stefan Rinck is also a member of the Main Executive Board of the German Engineering Association (Verband Deutscher Maschinen- und Anlagenbau - VDMA) and Chairman of the Committee for Research and Innovation of the VDMA. The five-day Conference is complemented by the three-day Exhibition, held from 15 – 17 September 2015.

Dr. Rinck was elected as Conference General Chairman following nomination and voting process by the EU PVSEC ISAC - International Scientific Advisory Committee.
Stefan Rinck states: "In Europe the good news is that we've now already passed the 88 GW the Member States originally committed to do by 2020. So the question is how much more can we bring into the system, looking not just at 2020 but beyond to 2030. R&D has a big role to play in this and we expect many presentations during the EU PVSEC 2015 addressing the science and technology developments needed to further increase the competiveness."
Dr. Rinck will be chairing the EU PVSEC 2015 where the Conference programme of the highest scientific calibre is currently being prepared by EU PVSEC's International Scientific Committee, made up of more than 200 leading experts from the global PV community, under the guidance of the EU PVSEC Technical Programme Chairman, Dr. Nigel Taylor, European Commission, Joint Research Centre
The EU PVSEC 2015 coincides with a year where the European Commission plans new growth initiatives in key energy technologies. Stefan Rinck concludes: "Innovation will always be at the heart of efficient and competitive manufacturing. The EU PVSEC 2015 will be again the platform between the global PV industry and international R & D specialists to discuss the latest developments and innovations in PV."
PV solar experts will meet in Hamburg to discuss new concepts, trends and developments in science and industry, as photovoltaic solar energy becomes a major electricity source on the world stage.
For more information, please visit: https://www.photovoltaic-conference.com
EU PVSEC Background
The EU PVSEC is supported by European and International Organisations such as UNESCO - United Nations Educational, Scientific and Cultural Organisation, Natural Sciences Sector, WCRE - World Council for Renewable Energy, EPIA - the European Photovoltaic Industry Association, SOLAR UNITED - Global Solar Business and Technology Association, ESA - European Space Agency, EREF - European Renewable Energies Federation, EUFORES - The European Forum for Renewable Energy Sources, REN21 - Renewable Energy Policy Network for the 21st Century, IEA-PVPS - International Energy Agency - Photovoltaic Power Systems Programme, EU PV TP - European Photovoltaic Technology Platform, EUREC - The Association of European Renewable Energy Research Centres, ARE - Alliance for Rural Electrification, AIE - European Association of Electrical Contractors, CABA - Continental Automated Buildings Association, EPIC - European Photonics Industry Consortium, SASIA - Saudi Arabia Solar Industries Association.
The Conference Programme is coordinated by the European Commission, DG Joint Research Centre.
Featured Product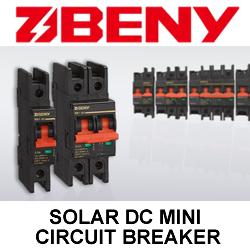 The BB1-63 modular miniature circuit-breakers can be used in solar DC circuits up to 1200 VDC (4-poles execution). Application in solar DC circuits, battery energy storage systems and UPS. Arc flash barrier design keeps solar equipment more safe and reliable. For DC circuit over-current protection.