Further to today's Scottish Government launch of a £250,000 Geothermal Energy Challenge Fund
Iain Todd, chairman of Fife Geothermal, said: "This is an extremely encouraging step forward for a sector that offers significant potential for helping Scotland to achieve its sustainable energy ambitions, but in which there has been little commercial development to date.

"Fife is already recognised as having significant geothermal resources – both in terms of its geology and using hot water from former mine workings. Fife Geothermal is keen to promote and develop the region as a major strategic area for demonstrator sites in these technologies. Development of such sites in Fife would not only be underpinned by considerable local geological and mining expertise (both academic and industrial), but could prove a commercial source of sustainable energy feeding into Fife Council's plans for public heating schemes in the area."
Fife Geothermal is a consortium group that was established in May, 2014, as a strategic, catalytic tool for developing the region's natural sources of geothermal energy. The group comprises representatives from Fife Council, St Andrews University, the British Geological Survey, Scottish Enterprise, Green Business Fife and a number of industrial companies including Town Rock Energy, Cluff Geothermal and GT Energy.
Further organisations are expected to join the consortium as the project - and Fife's potential in geothermal and heating schemes - continues to develop.
For more information about Fife Geothermal, please contact
Issued on behalf of Fife Geothermal by The BIG Partnership. For more information, please contact Karen Grant on +44 131 557 5252, +44 7805 436 957 or Karen.grant@bigpartnership.co.uk
Featured Product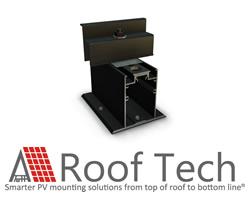 The most compact versatile rail-less PV mounting system under the sun. Instead of placing solar panels on top of long rails, simply attach E Mount AIR to rafters or the roof decking. Once panels are fastened to the roof, the system array is electrically bonded. The result is a visually seamless PV installation that stands the test of time. - Truly "One With The Roof". - PE stamped cert. letters available, UL 2703 Classified, ASTM 2140 fully waterproof. The one and only with integrated flexible flashing certified by the ICC! All the best quality. Only from Roof Tech