LUMS and The meeco Group cooperate to complete 300 kWp roof project
Lahore, Pakistan. The solar energy sector in Pakistan is about to take off. Having been on the forefront of this development, the first milestone of a long time envisioned and thoroughly developed solar project has been completed, connected and commissioned thereby providing the Pakistani market with additional clean energy. As early as 2013, the Lahore University of Management Sciences (LUMS) had decided to equip its buildings with sun2live rooftop installations. By now, the installation of a first 300 kWp system under a Power Purchase Agreement (PPA), that was concluded between The meeco Group, through its joint venture in Pakistan oursun Solar Power Limited and LUMS, has been completed.

After the initial successful 48 kwp sun2live installation on the roof of one of the university buildings in 2013, oursun Solar Power Limited and LUMS have pursued their cooperation by concluding the 2014 PPA adding additional 300 kWp. This new photovoltaic installation is expected to produce a minimum of 502.200 kWh per year, which shall thus save 43.18 tons of carbon dioxide annually.
oursun Solar Power Limited was in charge of developing, constructing, commissioning and subsequently operating the PPA project while LUMS will, apart from buying the produced solar energy, closely monitor the generation efficiency of the project through a software platform provided for by oursun Solar Power Limited. The goal of this joint monitoring project is to analyse and enhance the performance of PV installations.
When the project ppa contrac t was signed in 2014, Syed Saad Zafar, CEO and Director of oursun Solar Power Limited declared: "We are proud to have the worldwide renowned LUMS as our latest strategic partner in Research & Development. We will work together hands in hands towards further improvements of monitoring and reporting mechanisms." He also added: "We are hoping to generate valuable data with our software to produce forecasts, analyses and statistics that would be very useful for both companies as well as third parties such as investors."
About The meeco Group: The meeco Group was consolidated in 2000 and oriented its main focus towards the energy sector. With world headquarters located in Zug, Switzerland, the group currently has over 50 employees working across 4 continents. Thanks to a structured but flexible approach based on its core competencies, The meeco Group has deliv ered over 320 MW of clean, renewable energy solutions across four continents. The meeco Group accomplishes its mission by providing project developers, investors, governments, and private businesses with the services necessary for timely financing, installation, and operation of clean energy assets.
Featured Product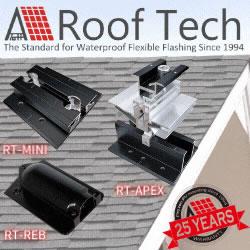 Now Roof Tech brings you the most innovative, watertight mounting systems ever developed for solar photovoltaic systems. Designed and manufactured exclusively for us by Japan's longtime leader in roofing technologies, Roof Tech products are 100% code-compliant and offer fast, simple installation and huge savings on shipping costs due to their compact, rail-less design. Learn more about our full line of versatile PV mounting solutions now available for residential installations. The next generation in rooftop solar mounting solutions."