Company spearheads growth initiatives with Conroy's technology and energy generation business acumen
Array Technologies, Inc. (ATI), the market leader in innovative high-quality solar tracking systems, is pleased to announce that Thomas Conroy has joined the company as president.

Conroy brings thirty years of business management experience in energy generation and technology companies across both domestic and international markets. He has led generation plant start-ups, generation equipment technology introductions, and renewable project developments.
Immediately before joining ATI, Conroy consulted for solar and wind energy companies as president and CEO of Evolving Energy, LLC. Prior to that, Conroy was president and CEO of Wind Tower Systems, where he led the commercialization activities for a new-technology utility-scale wind turbine tower product, which was later acquired by industrial giant General Electric. Conroy holds a bachelor's degree in mechanical engineering from Stevens Institute of Technology and a masters of business administration from Columbia University. He is also a co-inventor and patent holder of wind turbine related technologies.
Conroy, in his new position, will be responsible for optimizing ATI's business operations and leading global initiatives to establish the company into new, fast-growing solar energy markets.
Founder Ron Corio will remain as CEO and continue his focus on product innovation, R&D, and strategic planning.
"Tom joins us with extensive experience as a leader in the energy generation industry and has implemented successful go-to-market and value-maximization strategies for technology companies in previous positions," stated Corio. "We look forward to his role in driving ATI towards continued success as we roll out new solar tracking solutions to meet the fast-changing needs of the solar industry."
"It is a great pleasure and opportunity to join Array," said Conroy. "ATI's leading market position has been developed through the application of innovation focused on providing the best economic value proposition in the industry. I feel confident that ATI will continue to play a core role in driving down the cost of electricity from utility-scale solar power plants. I also look forward to expanding ATI's advantaged product set to international markets where solar is growing rapidly."
About Array Technologies:
Array Technologies is the worldwide market leader in tracking solutions for utility, commercial and residential solar electric generation systems, with more than 2 gigawatts shipped and installed across the globe. Array's innovation in solar tracker design and delivery has established the industry standard for cost-effective, reliable and easy to install PV solutions over the past two decades. Headquartered in Albuquerque, NM, Array Technologies' solutions are engineered in the USA. For more information about Array Technologies, Inc., please visit arraytechinc.com, connect with us on LinkedIn, join us on G+, follow us on Twitter and subscribe to our YouTube channel.
Featured Product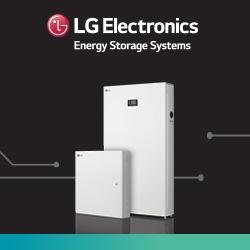 LG Solar is transforming today's solar landscape, offering precision-manufactured and high-efficiency solar panels for homeowners who demand high performance, reliability and consistently strong energy yield from a brand they can trust. LG modules feature outstanding durability, appealing aesthetics and high-efficiency technology, backed by a limited 25-year product, performance and labor (up to $450) warranty. Homeowners who purchase LG Solar modules know they're protected by a diversified global brand.