Investment Will Support Soltage Corporate Growth, New Solar Project Development and Acquisition Nationwide
Jersey City, New Jersey – March 10, 2015: Leading independent energy company Tenaska and Soltage, LLC, a full-service renewable energy company developing and operating solar power plants across the United States, today announced a Tenaska affiliate's second multimillion-dollar commitment to support Soltage's corporate equity growth and ongoing investment in new distributed solar photovoltaic (PV) generation projects.

Under the agreement, Tenaska assumes a controlling interest in Soltage, with potential to invest in new project portfolios going forward. This investment will facilitate Soltage's growth trajectory throughout the next few years, with an expectation to deploy more than $250 million for roughly 125 megawatts (MW) of solar projects throughout 2015 and 2016.
"This funding is both a transformative achievement for Soltage and further evidence solar power is a smart investment for forward-looking utilities and customers, alike," said Jesse Grossman, Soltage co-founder and CEO. "We continue to be thrilled to have such an established and highly respected investor as Tenaska working with us as we help to realize our nation's renewable energy capacity."
"The past 18 months have shown the strength of Soltage's business plan," said David Kirkwood, Tenaska vice president and treasurer. "This investment and potential follow-on investments will allow Soltage to increase its development velocity in the near term."
Soltage develops, finances, installs, owns and operates solar electric generating stations, providing electricity to commercial, industrial, educational, utility and municipal customers under long-term contracts. Soltage successfully installed 60 MW of new solar capacity in 2014, part of an overall development portfolio of nearly 80 MW since Tenaska's initial investment in 2008.
Tenaska is consistently ranked by Forbes magazine as one of America's largest privately held companies, with approximately 11,000 MW of power generating assets under management, including 280 MW of utility-scale PV projects operating or under construction.
Solar PV is one of America's fastest growing sources of new generation, led primarily by utility-scale power plants. In 2014, utility-scale solar projects attracted $3.2 billion in asset finance, and 3.8 gigawatts (GW) of new utility-scale solar PV capacity went on line across the country, bringing total installed U.S. capacity to just under 10 GW, according to Bloomberg New Energy Finance.
###
For media inquiries
Soltage, Silvio Marcacci, (202) 643-8210 silvio@marcaccicomms.com
Tenaska, Holley Salmi, (402) 691-9710, hsalmi@tenaska.com
About Soltage
Soltage is a leader in the development, financing, and operation of utility-scale solar power systems for commercial, industrial, and municipal customers across the United States. Soltage successfully installed 60 MW of new solar capacity across 16 projects in 2014, and has developed 30 solar energy projects with more than 75 MW total distributed generating capacity since 2008. Soltage is headquartered in Jersey City, New Jersey. For more information, visit www.soltage.com
About Tenaska
Tenaska, based in Omaha, Nebraska, is one of the leading independent power producers in the United States, with regional offices in Dallas, Denver, Pittsburgh and Calgary and Vancouver, Canada. Forbes magazine consistently ranks Tenaska among the largest privately held U.S. companies. Tenaska and its affiliates have developed and constructed approximately 9,000 megawatts (MW) of natural gas-fueled and renewable power generation, and manage operations for approximately 11,000 MW of power generation consisting of 15 power plants. The company has 280 MW of utility-scale solar projects in operation or under construction in California's Imperial Valley. Tenaska affiliates also market natural gas, electric power, biofuels and related commodities and natural gas fuels, and provide energy risk management services. Tenaska is involved in asset acquisition, natural gas fuel supply and transportation systems, and electric transmission development. For more information about Tenaska, visit www.tenaska.com.
Featured Product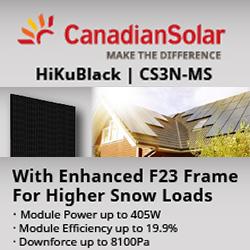 Aesthetic appearance for residential systems: With black backsheet & black frame, Power range 380 ~ 405 W, Low power loss in cell connection. Enhanced reliability: · Low temperature coefficient (Pmax): -0.34 % / °C, LID LeTID less than 2.0%, Lower hot spot temperature, Better shading tolerance.