The company's first project in the US included local manufacturing of the Exotrackâ HZ trackers
San Francisco, USA – March 11, 2015 - Exosun, leading provider of solar tracking technologies and associated plant engineering services, announces the commissioning of its solar trackers on the Lone Valley solar park located in the western Mojave desert, San Bernardino county, California. This 30 MWAC project, consisting of two adjacent solar plants, represents Exosun's first contract completion in North America, and also marks Exosun's first successful collaboration with the world's third largest renewable energy producer EDP Renewables.

The Lone Valley solar park is equipped with 262 of Exosun's Exotrack® HZ horizontal single-axis trackers, which orient over 120,000 photovoltaic modules toward the sun to increase electricity production up to 25 percent compared to a fixed-tilt installation.
"Installed on rocky desert land, this project demonstrates the robustness and adaptability of our trackers. Exotrackâ HZ's higher energy yield, fast and simple installation, as well as low maintenance requirements are helping our new client to accelerate ROI ", comments Frédéric Conchy, President of Exosun.
Less than one year after entering the US market, Exosun also achieved the successful establishment of a North American manufacturing footprint. "We have developed partnerships with North American manufacturers, and succeeded complete design transfer for the high quality local production of our trackers", added Frédéric Conchy.
The plant will generate over 80,000 MWh annually, enough to power 7,000 average American homes with clean energy. It will save 66,000 tons of CO2 per year.
Featured Product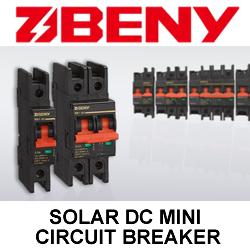 The BB1-63 modular miniature circuit-breakers can be used in solar DC circuits up to 1200 VDC (4-poles execution). Application in solar DC circuits, battery energy storage systems and UPS. Arc flash barrier design keeps solar equipment more safe and reliable. For DC circuit over-current protection.