Senior parliamentarians from the four key political parties today agreed that political will, rather than money or technology, is holding back the UK's renewable energy sector.
The Renewable Energy Association's (REA) Renewable Energy Question Time event this morning involved a lively debate on the future of UK energy policy.

Former Energy and Climate Change Minister and Conservative MP Gregory Barker, the Green Party's Baroness Jones, Co-Chair of the Lib Dems Parliamentary Party Committee on Climate Change Lord Teverson and Labour MP for Southampton Test Alan Whitehead all shared their views on renewables ahead of the 2015 General Election.
Looking back over the last five years, Gregory Barker was positive about progress made and believed the Conservatives had particularly moved their approach to renewables and climate change forward. His fellow panellists, however, were still quick to point out the party's flaws.
All four panellists did however agree that a key priority for any future Government needs to be pushing the renewable energy agenda forward. As part of this, emphasis needs to be on raising awareness of the benefits of renewable energy amongst the public, ensuring the wider debate becomes much more mainstream. It was agreed that consumer understanding and buy-in are fundamental to ensuring the success of renewable energy in the UK.
REA Chief Executive Dr Nina Skorupska said:
"There is great potential for renewable energy to transform the UK's energy mix, and while we very much welcome today's support from a cross-party panel of parliamentarians, it is clear that a lack of political will has held back the progress of the sector. However, the calls for a more bottom-up approach are unanimous. We understand that we need to do more as an industry to improve understanding of renewables amongst the public to increase consumer uptake, and put greater pressure on the future Government to raise the green agenda."
The key points raised by each panellist were as follows:
Alan Whitehead:
· The Government's existing renewable energy initiatives will run out by 2020 and are based on coal having a much longer lease of life than capacity suggests. Coal needs to be completely removed from the energy agenda by the early 2020s
· Energy demand needs to be reduced substantially as a key priority. We need to de-carbonise our energy supplies by 2030 if we stand a chance of being in the necessary position by 2050
· Whilst the Green Deal is based on good principles, it has been more 'stop stop' than 'start stop'. We need an area-based system that with local authorities at the heart. Once they are obliged to act on a localised basis, it can become a national obligation
· The existing energy grid systems needs an overhaul as the Government has got away with insufficient reconfiguration to date. The existing system will not be smart enough to cater for the new measures
· The future energy mix will need a more flexible energy system, with a combination of reliable power sources that rely on storage and interconnection. A balanced system is much more achievable than is widely believed
Lord Teverson:
· Of the 20 climate change commitments that the coalition agreed, 18 have been achieved to some degree
· Messages around renewable energy need to be more mainstream and people need to understand the wider benefits of the green agenda
· Transport needs to be a key policy focus for reducing our carbon footprint
· Biomass needs to be integrated into the grid and future energy mix
· Fracking is not going to cause a revolution or be a game changer
Baroness Jones:
· It is a myth that people are unwilling to 'go green'; the issue is often that people need more time to be able to care about the planet
· Local councils have a big role to play in ensuring the future success of the Green Deal. Councils need to start by insulating their own properties
· It is of upmost importance that local communities benefit from any renewables project in order to achieve public acceptance and buy-in
Gregory Baker:
· Renewable energy is becoming more accessible and affordable. When annuities come into force, we will see an increased number of people willing to invest
· It is key that we make renewable energy more consumer friendly with interesting and affordable products
· The future success of the Green Deal relies on a Government who can take it forward in a fair way
· There is currently sufficient scope in the planning pipeline to meet 2020 targets but the focus needs to be on onsite rather than distant renewables
· Commercial and industrial spaces need to be creative in how they tackle renewables
· Gas is our ally and has been the largest single driver of lower emissions over the last twenty years. Gas needs to work in tandem with renewables to remove coal from the energy system
Featured Product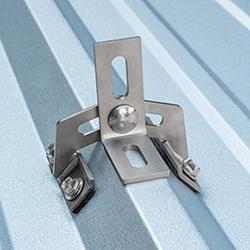 Explore new lines of income for your solar installation business with QuickBOLT's Stone Coated Steel roof mounts designed in partnership with metal roof manufacturers themselves. These SCS roof mounts work on all metal tile profiles and will help you bring in money you're missing out on. By not driving into the roofing material, QuickBOLT's Stone Coated Steel roof hooks maintain the integrity of the roof. Install with ease and confidence knowing your roof is protected against the harsh elements that these hooks are designed for.