Quad family of products first to benefit from latest in performance automation
CAMBRIDGE, England--Azuri Technologies has launched Quad, its latest generation of PayGo solar home systems, featuring HomeSmart, an adaptive control system that optimises output according to the user's energy usage patterns.

The new Quad product family is digitally controlled throughout, including full digital switching, allowing all outputs to be controlled from the central Azuri home unit. The entry-level product features a 10 watt solar panel and long life Lithium Iron Phosphate batteries, with high quality European LED technology to light a whole rural household for 8 hours per night and a USB port for phone mobile charging.
Unlike solar for developed economies, rural solar home systems are aimed at households that have no access to grid electricity and are entirely dependent on sunshine for power, which is stored locally in batteries. Research by Azuri on its existing customers has shown a wide variety of usage patterns, and the quantity of available sunlight also varies depending on season and cloud cover. This makes it difficult for conventional systems to perform optimally for every user.
The patented HomeSmart technology "learns" the customer's power usage patterns and optimises light brightness, battery charging and load conditions to ensure the system delivers the best possible match to the customer's typical daily requirement for a given level of available sunlight.
By example, if a customer typically uses the system in the morning as well as the evening, the system will automatically slightly dim the lights in the evening on days when there is less sunshine to ensure there is still power available in the morning. The HomeSmart technology requires no user intervention and brings a new level of intelligence to what are frequently thought of as "dumb" domestic appliances.
As with other Azuri PayGo products, instead of an upfront cost, the Quad system is unlocked for use by the purchase of top-up credit, and while bringing a new level of quality and intelligence to the rural off-grid market, still costs less than the kerosene and phone charging fees being replaced.
Simon Bransfield-Garth, CEO of Azuri, commented, "Quad marks a milestone for Azuri. Building upon the success of the Indigo product range, Quad offers levels of performance and system automation that are rarely found in lighting systems in the developed world, let alone rural Africa. It is another example of reverse innovation where the needs of African consumers are leading rather than lagging the market."
Featured Product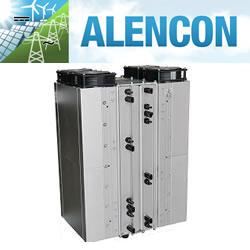 Alencon Systems is the premier manufacturer of high power, high voltage DC:DC optimizers for alternative energy applications including solar, battery energy storage, Microgrids, Fuel Cells and Electric Vehicle charging. Alencon's DC:DC converter offerings include the SPOT, BOSS and CUBE series DC:DC converters. The SPOT is a modular, uni-directional DC:DC solution ideal for solar applications. The BOSS is a modular, bi-directional unit for use with battery energy storage. The CUBE is a monolithic DC:DC converter which is available in both uni-directional and bi-directional modalities. Pictured above, is the Alencon SPOT.