New ees (electrical energy storage) North America Special Exhibition to Debut at Intersolar North America; All Global Exhibitors Encouraged to Submit Application for Intersolar AWARD
SAN FRANCISCO, March 11, 2015 -- The exhibition floor of Intersolar North America, the most-attended solar industry exhibition and conference dedicated to the North American market, will feature a number of segments highlighting the innovative products fueling the growth of the solar and energy storage sectors. Organizers expect approximately 18,000 visitors from around the world over the course of the three-day exhibition, held from July 14 to 16 in San Francisco's Moscone Center West.

As part of the world's leading and most international exhibition series for the solar industry, the eighth Intersolar North America will once again showcase innovations in PV and solar heating & cooling technologies from around the world, as well as new products in its fastest-growing exhibition segments: balance of systems (BOS) and mounting and tracking systems. Visitors will see the latest technologies and service offerings from leaders such as ABB, Inc.; TMEIC Corporation; Shoals Technologies Group; SolarEdge Technologies, Inc.; Multi-Contact USA; Schletter, Inc.; Quick Mount PV; Array Technologies, Inc.; Unirac, Inc.; and ArcelorMittal.
As solar PV module prices have declined, BOS components represent the next challenge for reducing overall system costs. Intersolar North America's BOS and mounting and tracking systems exhibition segments have expanded year after year, due in part to the strong focus on developing efficient, cost-saving and time-saving products ranging from hardware to installation and finance. Organizers expect the BOS segment to grow by up to 10 percent this year.
Recent developments include the expanded market share of module-level power electronics, the
increasing use of string inverters in mid-sized PV plants and the growing dominance of non-penetrating racking for rooftop PV. In utility-scale installations, the industry is focused on reducing labor in the field and commercializing innovative racking and mounting systems that provide the same amount of strength with less steel, part of an ongoing effort to simplify system design.
"The successful commercialization of these products, as well as aggressive policies and favorable
market conditions, has led to a soaring solar job market. In California alone, there are more than 50,000 solar jobs, prompting the Intersolar organizers to include more installation topics for this year's event, as well as 20 technical training sessions," said Markus Elsaesser, CEO of Solar Promotion International GmbH, and Daniel Strowitzki, CEO of FMMI International, the second organizer of Intersolar North America. "We are also encouraged by the significant growth of the mounting and tracking exhibition segment, which has increased 50 percent since 2011, and look forward to seeing what innovations are on display this year."
ees (electrical energy storage) Europe, the largest energy storage event in Europe and the world's largest industry platform for storage devices used in combination with PV, will expand this year to
Intersolar North America. Organizers expect 50 energy storage companies to exhibit at ees North America this year, a 255 percent growth over the past three years, which mirrors the rapid expansion of storage adoption worldwide.
According to GTM Research, the next six years will see a 34 percent annual growth rate for energy storage in the United States, with an anticipated deployment of 720 MW between 2014 and 2020. The market for solar PV plus energy storage in the United States is expected to grow from $42 million in 2014 to more than $1 billion by 2018. Intersolar North America will showcase key players in the industry, such as S&C Electric Company; Engion by VARTA Storage GmbH; Bosch Energy Storage Solutions LLC; Enphase Energy, Inc.; Sonnenbatterie GmbH and Princeton Power Systems. The ees North America exhibit will be located in Moscone West.
Additional information about exhibiting at Intersolar North America can be found online.
Intersolar AWARD, ees AWARD Will Honor Top Exhibitor Technologies and Projects
For the eighth year, Intersolar will recognize the innovative solutions on display at its global exhibition and conference series. The Intersolar AWARD is presented to new technologies and groundbreaking projects that demonstrate a commitment to commercializing cost-effective and efficient solutions to increase solar energy generation around the world. Exhibitors are invited to submit applications in the categories of Photovoltaics, Solar Projects in Europe and Solar Projects in North America.
Powered by Intersolar, the ees AWARD will recognize revolutionary energy storage products and
solutions, including components or technical innovation in the fields of materials, production, systems, applications, second use and recycling.
"Every year, we strive to highlight the product innovations and trends driving down solar costs and increasing efficiency and reliability," said Elsaesser. "The Intersolar AWARD is one of our favorite parts of our global event series, because it puts these breakthrough technologies and products on the world stage. We're excited to see this year's submissions, and look forward to announcing the winners!"
All international Intersolar and ees exhibitors in 2015 are invited to submit their applications online. Applications are due March 27.
About Intersolar North America
With events spanning four continents, Intersolar is the world's leading exhibition series for the solar industry and its partners. It unites people and companies from around the world with the aim of
increasing the share of solar power in our energy supply.
Since its establishment in 2008, Intersolar North America has become the most attended solar event and the premier networking platform for the North American solar industry. Co-located with SEMICON West, it takes place annually at the Moscone Center in San Francisco, California, the United States' pioneering solar market.
The event's exhibition and conference both focus on the areas of photovoltaics, PV production
technologies, energy storage and solar thermal technologies. Since being founded, Intersolar has
become the most important industry platform for manufacturers, suppliers, distributors, service
providers and partners of the global solar industry.
A total of 530 exhibitors and 17,473 trade visitors participated in Intersolar North America in 2014. The conference featured 40 sessions and 25 workshops with more than 200 speakers.
With over 20 years of experience, Intersolar has the unique ability to bring together members of the solar industry from across the world's most influential markets. Intersolar exhibitions and conferences are held in Munich, San Francisco, Mumbai, Beijing and Sao Paulo. Starting in 2014, these global events will be complemented by the Intersolar Summits, which is to take place in emerging and growing markets worldwide.
For more information on Intersolar North America, please visit: www.intersolar.us.
Featured Product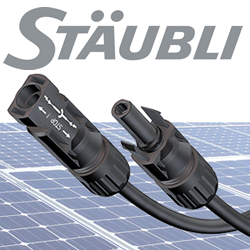 ​Stäubli Electrical Connectors are used on more than 300 GW, over 50% of the PV capacity worldwide. The MC4 family of UL and TUV listed products include connectors, in-line fuses, branch connectors, cable assembly and more.