Aurora's first repeat order includes two, three-track Decima™ inline measurement systems with Veritas™ software for full production rate monitoring and control of solar cell emitter formation
Aurora's first repeat order includes two, three-track Decima™ inline measurement systems with Veritas™ software for full production rate monitoring and control of solar cell emitter formation

NORTH VANCOUVER, BRITISH COLUMBIA--(Marketwired - March 17, 2015) - ACT Aurora Control Technologies Corp. ("Aurora" or the "Company") (TSX VENTURE:ACU) is extremely pleased to announce the receipt of a letter of intent from an existing customer for the purchase of two Decima inline measurement system with Veritas™ software. The expected order is for the new Decima technology that measures three tracks down every wafer as they emerge from the annealing or diffusion furnace at full production rates. Aurora's patent-pending Veritas software displays the resultant emitter profiles in three dimensions thus monitoring the quality of each wafer from the furnaces, comparing them with specifications and allowing operators to adjust and optimize the furnace parameters for higher yield of top quality cells.
"Our work with this customer quickly demonstrated the accuracy and repeatability of the Decima measurement technology," said Steve McDonald, Vice President of Business Development. He went on to say that "Aurora's tube uniformity visualizations highlighted previously unknown levels of process variation. This information was vital to our customer when selecting the best furnace technology for their new line where Aurora's Decima technology will be integrated inline for batch-to-batch diffusion furnace optimization."
About Aurora:
ACT Aurora Control Technologies Corp. develops, manufactures and markets inline measurement systems for the photovoltaic industry. Headquartered in North Vancouver, Canada, and founded by experienced leaders in process measurement, semiconductor manufacturing and industrial automation, the Company's inline, real-time measurement and control products provide photovoltaic cell manufacturers with the means to lower production costs and increase profitability. The Company's shares are listed on the TSX Venture Exchange and trade under the symbol "ACU". For more information, the Company's website is located at www.auroracontrol.com.
Neither the TSX Venture Exchange nor its Regulation Services Provider (as that term is defined in the policies of the TSX Venture Exchange) accepts responsibility for the adequacy or accuracy of this release.
Some statements in this news release contain forwardlooking information. These statements address future events and conditions and, as such, involve known and unknown risks, uncertainties and other factors which may cause the actual results, performance or achievements to be materially different from any future results, performance or achievements expressed or implied by the statements. The Company does not assume the obligation to update any forwardlooking statement.
Featured Product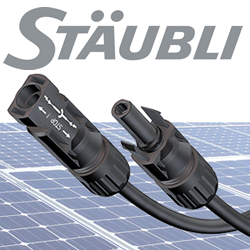 ​Stäubli Electrical Connectors are used on more than 300 GW, over 50% of the PV capacity worldwide. The MC4 family of UL and TUV listed products include connectors, in-line fuses, branch connectors, cable assembly and more.