Applied Energy Technologies (AET) Rayport™-G ECO Ground Mount System Installed at Solar Plant in Vermont
Applied Energy Technologies (AET), a preferred supplier of commercial and utility-scale racking systems and one of the top 10 solar racking companies in the United States, is pleased to announce that its Rayport™-G ECO racking system was installed to support a 2 MW solar project in Vermont. AET was selected by REC Solar, a national provider of comprehensive commercial solar and energy solutions, for the project which provides enough solar energy to power the equivalent of 450 local homes annually. The system consists of more than 15,000 posts and more than 8,000 modules.

"Establishing partnerships with like-minded companies like AET is key to growing local solar markets. Following a thorough vetting process, we selected AET for its high quality products, services and business processes," said Mark Bettis, VP of Sales and Marketing at REC Solar.
Aaron Faust, VP of Business Development at AET, said: "AET boasts industry-leading installation time, and our Rayport™-G ECO was the ideal solution to help REC complete their project in less than five months. The Rayport™-G ECO is very popular with EPCs and developers looking for a product with strength, durability, scalability and a competitive price point. It was also the ideal product for this site due to AET's ability to offer site customization."
"The site provided some unique challenges and we worked closely with our customer to ensure the system would meet their specifications. Prior to installation, AET reviewed the site's topography by looking at soil samples and also conducted in-depth pull-testing which involves driving posts into select locations. This proactive process revealed that longer posts would only be needed for a portion of the site, resulting in a saving of two feet per post in the majority of the site."
The Rayport™-G ECO is UL 2703-listed and is rapidly becoming an industry standard for developers and EPCs looking for a ground-mounted system that is easy to install and delivers significant savings on total installed costs. The Rayport™-G ECO has been engineered to withstand the most challenging environmental conditions. Its light and compact design allows for high shipping density, significantly reducing freight costs and enabling easier handling on the job site.
About Applied Energy Technologies (AET)
Applied Energy Technologies (AET), a leading provider of world-class solar mounting solutions, delivers top quality engineering, manufacturing and installation (EMI) services for bankable utility and commercial-scale solar projects. With an impeccable track record of more than 200 MW in completed projects, 100% on time delivery, 100% on budget, and zero warranty claims, AET meets the highest standards in product manufacturing, design and engineering, and installation required by some of the solar industry's foremost leaders. AET has more than 30 years of product development and engineering experience, and creates mounting solutions that stand up to harsh environmental conditions, meet tough budget constraints, and are fast and easy to install. For more information, visit: http://aetenergy.com/.
Featured Product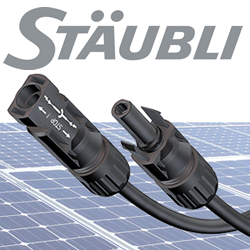 ​Stäubli Electrical Connectors are used on more than 300 GW, over 50% of the PV capacity worldwide. The MC4 family of UL and TUV listed products include connectors, in-line fuses, branch connectors, cable assembly and more.