Module Supplier Sponsorship and APNF Grant Takes Project Fundraising Across the Finish Line
San Francisco, CA – March 24, 2015 – Today Everybody Solar, an award-winning solar energy nonprofit, announces that JinkoSolar and All Points North Foundation (APNF) have stepped up to bring solar to fellow Bay Area nonprofit Wildlife Associates. In September, Everybody Solar kicked off a crowdsourced fundraising campaign to bring a solar array to Wildlife Associates and cut their electric bill by 90%. These donations pushed the campaign past its goal of $78,500, allowing construction on the 27 kW solar array to commence. The hundreds of thousands of dollars in savings will support the organization's mission of wildlife conservation and education.

A private foundation that strengthens communities by supporting solar educational programs, APNF has awarded Everybody Solar with a prestigious $30,000 grant. The grant will cover the installation and ancillary equipment costs of the Wildlife Associates array. APNF works to drive awareness, education, training and hands-on application of solar as a practical and cost-efficient energy source, and saw a natural fit with the Everybody Solar project.
"APNF is proud to help Wildlife Associates go solar. The installation will significantly reduce the organization's electricity costs, allowing more resources to go toward its mission. Wildlife Associates will be able to reach more students, teaching them about the care of wild animals as well as being stewards of the earth through the use of renewable solar power," said Mark Dudzinski, APNF solar subcommittee chair and board member.
With JinkoSolar's donation of 90 high-efficiency modules, Everybody Solar can now break ground on the Wildlife Associates installation. Valued at approximately $20,000, JinkoSolar's second major contribution to Everybody Solar will generate over $150, 000 worth of electricity over the course of twenty years. The 72-cell high-efficiency modules from JinkoSolar will be paired with Enphase Energy's new line of C250 micro-inverters to generate the most power possible for Wildlife Associates. JinkoSolar's 305 Watt modules will maximize the amount of clean energy produced from Wildlife Associate's limited roof space while Enphase's C250 micro-inverters optimize the energy production and monitor the production of each individual module.
"It is with great pleasure that we renew our partnership with Everybody Solar for this notable cause. Their ongoing efforts to service the community while bringing sustainable energy to the forefront are truly commendable," said Nigel Cockroft, General Manager of JinkoSolar (U.S.) Inc. "We are humbled that our contribution will benefit Wildlife Associates, an organization both close to our home and heart."
"We're extremely grateful to the All Points North Foundation for all of its important work to bring solar to communities across the country. We're also excited to partner again with Jinko Solar on the Wildlife Associates project and utilize their cutting edge solar module technology," says Youness Scally, Executive Director of Everybody Solar. "With the Foundation grant and in-kind module donation, Wildlife Associates will be able to significantly expand their wildlife programs and further educate the public about the benefits of solar energy and conservation. We're honored to be the beneficiary of these two champions of clean energy."
With the crowdsourcing effort now realized, Everybody Solar will begin breaking ground on the project in April with project completion and ribbon cutting targeted for later this spring.
About Everybody Solar
Everybody Solar is a non-profit organization based in San Francisco, CA. They work to protect the environment and strengthen U.S. communities through solar energy projects. By providing solar power to local charities, they help these organizations reduce electricity costs and direct their limited resources to the communities they serve. Everybody Solar is a charitable organization and depends on volunteers and the generosity of the public to perform its mission. Visit them online at http://www.everybodysolar.org, like them at http://www.facebook.com/everybodysolar, or tweet at them at www.twitter.com/everybodysolar.
About Wildlife Associates
Since 1980, Wildlife Associates has provided nationally acclaimed educational programs for children, families, and adults throughout the Greater San Francisco Bay Area. At its 120-acre wildlife sanctuary in Half Moon Bay, the organization cares for more than 50 non-releasable animals that could not survive in the wild. These amazing animals take on the role of "Wild Teachers" in Wildlife Associates' educational programs. Designed to help students of all ages be scientifically literate citizens and good stewards of the earth, Wildlife Associates provides over 800 educational presentations each year. Visit them online at http://www.wildlifeassociates.org.
About All Points North Foundation
All Points North Foundation (APNF) is dedicated to navigating communities upward. APNF was founded by a family who strongly believes that everyone has a true "North" – a place of achievement. They feel that everyone should be given equal opportunity and access to realize their goals. Established in 2011 in Boston, Mass., APNF is a small, private foundation that supports two distinct priorities in the United States: evidence-based programs that measurably improve public middle school education and teacher training, and projects that promote solar energy awareness and implementation. APNF is online at www.allpointsnorthfoundation.org.
About JinkoSolar Holding Co., Ltd.
JinkoSolar (NYSE: JKS) is a global leader in the solar industry. JinkoSolar distributes its solar products and sells its solutions and services to a diversified international utility, commercial and residential customer base in China, the United States, Japan, Germany, the United Kingdom, Chile, South Africa, India, Mexico, Brazil, the United Arab Emirates, Italy, Spain, France, Belgium, and other countries and regions. JinkoSolar has built a vertically integrated solar product value chain, with an integrated annual capacity of 2.5 GW for silicon ingots and wafers, 2.0 GW for solar cells, and 3.2 GW for solar modules, as of December 31, 2014. JinkoSolar also sells electricity in China, and has connected approximately 500 MW of solar power projects to the grid, as of December 31, 2014.
JinkoSolar has over 13,000 employees spread across its 11 global branch offices in Germany, Italy, Switzerland, the United States, Canada, Australia, Singapore, Japan, India, South Africa and Chile; 12 global sales offices in China, Spain, the United Kingdom, the United Arab Emirates, Jordan, Saudi Arabia, Egypt, Morocco, Ghana, Brazil, Costa Rica and Mexico; and five productions facilities in Jiangxi and Zhejiang Provinces, China, Malaysia, Portugal and South Africa.
Featured Product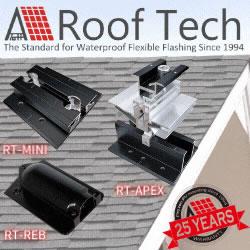 Now Roof Tech brings you the most innovative, watertight mounting systems ever developed for solar photovoltaic systems. Designed and manufactured exclusively for us by Japan's longtime leader in roofing technologies, Roof Tech products are 100% code-compliant and offer fast, simple installation and huge savings on shipping costs due to their compact, rail-less design. Learn more about our full line of versatile PV mounting solutions now available for residential installations. The next generation in rooftop solar mounting solutions."