Innovative Services for Wind Power Plant Operators
Osnabruck. seebaWIND Service GmbH is offering operators of wind power plants a new service for obtaining the ancillary-services bonus until April 10. Together with its partner Mita-Teknik and with the support of GE Wind Energy GmbH, the manufacturer-independent service provider has developed a complete business solution for retrofitting wind power plants built in the years 2002 - 2008 according to the bonus requirements.

The ancillary-service bonus of 0.7 cents per kilowatt hour is paid in Germany for five years for older systems that support the grid with ancillary services. But seebaWIND's package for the MD70/77 series of Senvion (formerly REpower) and the FL MD70/77 series of Fuhrländer not only supports the grid, but simultaneously increases the reliability of the systems, their yield and data security.
New Inverters and Control Units
As part of its complete package, seebaWIND service replaces both the frequency inverter in the tower base as well as the control unit in the tower head with new equipment. The water-cooled frequency inverter – from GE Wind Energy GmbH – has a high efficiency and has been installed in thousands of GE1.5 wind power plants. Mita-Teknik's new control unit takes over the safety functions and innovative new approaches to control the plants.
In addition, the new devices enable secure communication and transmit data very quickly: while the wind power plants frequently communicate via over ISDN lines today, the new package makes all the data available in real time to direct marketers, plant operators and owners. Moreover, seebaWIND has increased yield depending on location by one to three percent with the new components.
Fit for the Future
Thanks to its ancillary-service retrofitting, seebaWIND can ensure that wind power plants already meet the guidelines that are expected in the future. "As a result, costly new purchases can be avoided", explains seebaWIND sales manager Jörg Fuchs and adds: "If the new system stabilisation regulation enters into force, all wind power plants will need to provide ancillary services. With our new package, we have prepared our customers' facilities today for the future. In addition, we have improved the reliability and increased the yield."
About seebaWIND Service GmbH
With headquarters in Osnabruck, Germany and two service centres, seebaWIND Service GmbH is a manufacturer-independent service organisation for wind power plants and specialised in working with plants manufactured by Nordex, Fuhrländer and Senvion (formerly REpower). The services the company offers encompasses technical operation management with 24/7 remote monitoring as well as service, maintenance and repair. seebaWIND Service also offers its customers the opportunity of joining purchasing pools for replacement parts. The company currently employs 75 highly qualified employees and manages approximately 592 wind power plants with a power output of 995 MW.
seebaWIND Service belongs to the Windnetwork 360°, the only nation-wide service network independent of any manufacturer for wind power plants of Nordex, Fuhrländer and Senvion (formerly REpower).
Press office of seebaWIND Service:
Krampitz Communications - PR for Renewables and Technologies
Iris Krampitz / Thomas Blumenhoven
Dillenburger Str. 85
51105 Cologne
Germany
Telephone: +49 (0) 221 912 499 49
Fax: +49 (0) 221 912 499 48
E-mail: contact@pr-krampitz.de
Featured Product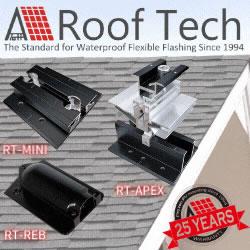 Now Roof Tech brings you the most innovative, watertight mounting systems ever developed for solar photovoltaic systems. Designed and manufactured exclusively for us by Japan's longtime leader in roofing technologies, Roof Tech products are 100% code-compliant and offer fast, simple installation and huge savings on shipping costs due to their compact, rail-less design. Learn more about our full line of versatile PV mounting solutions now available for residential installations. The next generation in rooftop solar mounting solutions."