Public-private partnership is part of Hawaii's Green Energy Market Securitization (GEMS) program
SAN FRANCISCO, March 25, 2015 – Clean Power Finance (CPF) has brought together Panasonic Eco Solutions (Panasonic) and Coronal Group LLC (Coronal) with the State of Hawaii to finance up to $100 million of solar photovoltaic (PV) systems. This public-private partnership is part of Hawaii's Green Energy Market Securitization Program (GEMS). GEMS is a sustainable financing initiative of the Hawaii State Energy Office to make clean energy more affordable for and accessible to businesses and nonprofit organizations.

"The state engaged CPF to structure the product and identify experienced partners to provide significant electric bill savings to underserved non-profits and businesses in Hawaii," said Sean Coletta, managing director at CPF. "We look forward to bringing clean, affordable energy to a broader demographic in Hawaii with a unique product that has the potential to serve as a model for other states and municipalities."
GEMS is the first program in the United States to use rate reduction bonds, which are commonly used by utilities, to finance solar energy. The ability to tap a huge pool of municipal bond capital reduces financing costs for clean energy installations by minimizing overhead expenses and maximizing economies of scale.
"The Coronal-Panasonic platform provides long-term stability and peace of mind to GEMS customers. Our combined team is fully committed to the design, construction, long-term ownership and operation of solar PV systems," said Jamie Evans, head of U.S. Eco Solutions at Panasonic. "Enabling access to solar energy for underserved customers through the GEMS Program is just the beginning. Over time, GEMS customers can access additional solutions through our 'Energy-as-a-Service' platform, forming a long-term relationship with one of the most trusted brands in the world."
Coronal and Panasonic will initially provide tax equity and engineering, procurement and construction (EPC) services to installers in Hawaii who will originate the solar energy projects. CPF will work with the state of Hawaii to manage capital deployment and provide underwriting and origination services to the state and the Coronal-Panasonic team.
"Coronal is deeply committed to supporting the GEMS program, which we see as a major step toward removing barriers that have prevented many Hawaii nonprofits and small businesses from accessing solar energy," said Jonathan Jaffrey, chairman and CEO of Coronal Group LLC. "We believe that through its success this program will provide others with a road map to engage these underserved markets."
The state of Hawaii's Department of Business, Economic Development & Tourism initially engaged CPF to identify program partners for the commercial portion of GEMS because of CPF's solar deal structuring expertise and ability to connect originators, installers and financing sources for solar energy.
About Clean Power Finance
Clean Power Finance (CPF) provides financial services and software that power the U.S. residential solar industry. CPF's financing platform connects companies that sell, install and finance residential solar in eleven states. Solar marketers and installers access a full suite of residential solar finance products they can sell to consumers, including power purchase agreements (PPAs), leases, PACE products and loans. Investors and lenders invest in solar assets that provide reliable rates of return with strong risk management and asset management services. CPF's software, CPF Tools®, helps solar professionals in all 50 states design, quote and sell solar deals. Founded in 2006, CPF has raised more than a billion dollars of project financing from third-party solar investors that include major corporations, electric power companies and financial institutions. To learn more about CPF, please visit www.cleanpowerfinance.com.
About Panasonic Enterprise Solutions Company
Panasonic Enterprise Solutions Company, a division of Panasonic Corporation of North America, develops, installs and maintains large-scale Eco Solutions and Audio-Visual Solutions for business and municipal customers. Serving customers across a wide range of industries, the company engineers custom-built applications using the latest technology, experience in end-to-end management of complex projects and unparalleled onsite support services. Panasonic Eco Solutions offers expertise in end-to-end solar energy projects while also delivering technological and financial solutions to the rapidly expanding commercial and industrial renewable energy markets. An industry leader in Audio-Visual Solutions, the company has installed some of the largest high-definition LED video boards in the world at many well-known sports and entertainment venues in the U.S. In Interbrand's 2014 annual "Best Global Green Brands" report, Panasonic ranked number five overall and the top electronics brand in the report.
Learn more: panasonic.com/pressroom. For more information visit: http://www.panasonic.com and http://us.panasonic.com/business/pesna/.
About Coronal Group LLC
Coronal Group is an alternative energy firm that finances and operates solar PV projects for institutions, municipalities, corporations and non-profit organizations throughout the U.S. and Canada. The Coronal team, which brings more than 80 collective years of successful asset and investment management experience, and a strong record of solar project development, has been recognized by the White House Office of Innovation and Civic Participation as thought leaders in the solar industry.
The Coronal-Panasonic partnership delivers a comprehensive end-to-end solution to facilitate the development and commercialization of solar PV projects in the commercial, municipal and utility markets from inception to commercial operation – services include construction and equity financing, engineering, procurement and construction (EPC) and the operations and maintenance (O&M) of the systems. For additional information, please visit CoronalGroup.com.
About GEMS
The Green Energy Market Securitization Program (GEMS) is an innovative, sustainable green financing initiative designed by the Hawaii State Energy Office to make clean energy improvements more affordable and accessible for Hawaii consumers. The program, signed Act 211 into law on June 27, 2013 by Governor Neil Abercrombie, provides low-cost capital to finance solar photovoltaic systems and other clean energy improvements for those who may otherwise have difficulty obtaining financing for these projects. Low-credit homeowners and renters, as well as nonprofits are among those who will qualify for project financing through GEMS. Ultimately, GEMS has the ability to finance the installation of over 44 MWs of energy, assisting as many as 30,000 underserved Hawaii consumers, greatly reducing their energy expenses and advancing Hawaii's aggressive clean energy mandates.
Editorial Contacts:
Clean Power Finance
Alison Mickey
415-963-4319
amickey@cleanpowerfinance.com
Coronal Group LLC
Bonnie Quintanilla Phyllis Grabot
(818) 681-5777 (805) 341-7269
bq@zeesman.com Phyllis@zeesman.com
Panasonic Corporation of North America
Weld Royal (Media Relations)
201-348-7859
weld.royal@us.panasonic.com
Featured Product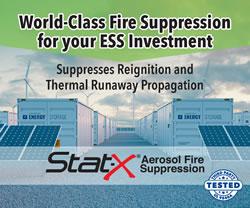 Stat-X® condensed aerosol fire suppression is a solution for energy storage systems (ESS) and battery energy storage systems (BESS) applications. Our Stat-X condensed aerosol fire extinguishing product was tested for efficacy in suppressing li-ion battery fires. It was found that the product successfully extinguished single and double cell battery fires. This testing was conducted in parallel with a large battery fire testing program on behalf of a large energy storage company.