Kentz, a member of the SNC-Lavalin Group and global engineering specialist solutions provider, has selected Saft Sunica.plus batteries for solar powered wellhead industrial control systems and corrosion protection installations serving Qatar Petroleum's Dukhan Oilfield
PARIS--Saft, the world's leading designer and manufacturer of high-tech industrial batteries, has been awarded around 10 million dollar contract by Kentz, a member of the SNC-Lavalin Group and global engineering specialist solutions provider, to supply its Sunica.plus batteries for critical solar powered systems serving Qatar Petroleum's Dukhan oilfield. Over the next two years, some 40,000 of the nickel-based Sunica.plus batteries will be deployed at around 775 wells across the oilfield, where they will provide energy storage and backup power for wellhead industrial control systems and corrosion protection systems.

Kentz is currently working on a 190 million dollar contract for Qatar Petroleum to provide a dedicated Supervisory Control and Data Acquisition (SCADA) network infrastructure to monitor the 775 wellheads in the Dukhan Oilfield from designated stations. Kentz's scope of work also includes the prevention of external corrosion damage to the oilfield's well casings by installing an impressed current cathodic protection system.
The SCADA network and the corrosion protection systems will be powered by solar photovoltaic (PV) panels working in combination with the Sunica.plus batteries to provide the essential energy storage and backup power to ensure their total continuity of operation. Saft has developed the Sunica.plus battery specifically for this type of stand alone, off-grid solar installation, where its robust nickel-based construction and high cycling capability ensures long life and low maintenance requirements, even when subjected to erratic charging conditions and operating temperatures fluctuating from - 20˚C to + 50˚C.
"Thousands of Saft Sunica.plus batteries are currently deployed at off-grid solar powered sites around the world, where they have demonstrated unrivalled performance and long-life. Kentz's decision to select them for this very prestigious project for Qatar Petroleum's Dukhan oilfield is further confirmation that Sunica.plus is the ideal choice for remote, hard to access installations where absolute reliability is essential and routine maintenance is time-consuming and expensive," says Xavier Delacroix, General Manager of Saft's Industrial Battery Group Division.
About Saft
Saft (Euronext: Saft) is a world leading designer and manufacturer of advanced technology batteries for industry. The Group is the world's leading manufacturer of nickel batteries and primary lithium batteries for the industrial infrastructure and processes, transportation, civil and military electronics' markets. Saft is the world leader in space and defence batteries with its Li-ion technologies which are also deployed in the energy storage, transportation and telecommunication network markets. More than 4,000 employees in 18 countries, 14 manufacturing sites and an extensive sales network all contribute to accelerating the Group's growth for the future.
Featured Product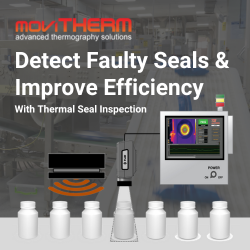 MoviTHERM's Thermal Seal Inspection (TSI) solution provides precise and reliable detection of defects in a variety of packaging types, including pouches, bags, blister packs, bottle caps, and more. By detecting defects in your packages, the TSI solution helps increase efficiency in your production line and ensures top-quality packaging is delivered to your customers every time. With state-of-the-art technology and an experienced team, MoviTHERM is dedicated to delivering accurate inspection solutions and peace of mind to its clients. Contact MoviTHERM today to learn more about their thermal seal inspection solution.