SEPA posts all papers received and asks for public comments
WASHINGTON -- Will future energy systems run almost entirely on solar or other renewables or aim for an optimum mix of all energy resources? Will managing energy distribution remain primarily a utility function or will the grid evolve to give customers the ability to produce, buy and sell power locally.

These are some of the questions asked and answered -- in many different ways -- in proposals the Solar Electric Power Association (SEPA) has received in response to its 51st State Initiative, all of which are now publicly posted on the 51st State website, www.sepa51.com. Launched last October, the initiative challenged people across the country to come up with ideas for a 21st-century energy system, built from the ground up, as if for a hypothetical 51st state with no regulations or market structures in place.
"What is exciting about these papers and their authors is that they reflect the broad and diverse range of perspectives and ideas we hoped the 51st State Initiative would attract," said Julia Hamm, SEPA's president and CEO. "We are in the midst of a period of enormous change in energy and utility markets, and each state will be making its own decisions about the direction it wants to take, so many different ideas and models are going to be needed."
The organizations submitting their ideas range from utilities and industry trade groups -- such as Arizona Public Service and the American Public Power Association -- to a team of industry experts including Jon Wellinghoff, former chair of the Federal Energy Regulatory Commission.
Each paper has a unique slant or perspective, but some core ideas resonate across many.
· Business models focused on consumer choice and informed decision-making.
· Rate designs that incorporate the value of energy services and targeted system outcomes.
· Dynamic grid structures offering local control. resilience, and advanced data and communication functions.
The papers are being evaluated by the 51st State's Innovation Review Panel, composed of five top thought leaders from the energy and utility sectors. They will choose three to five papers for further discussion and exploration at a series of forums and public events in coming months.
Featured Product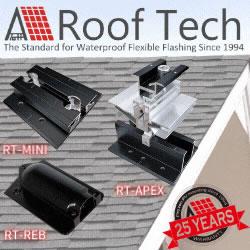 Now Roof Tech brings you the most innovative, watertight mounting systems ever developed for solar photovoltaic systems. Designed and manufactured exclusively for us by Japan's longtime leader in roofing technologies, Roof Tech products are 100% code-compliant and offer fast, simple installation and huge savings on shipping costs due to their compact, rail-less design. Learn more about our full line of versatile PV mounting solutions now available for residential installations. The next generation in rooftop solar mounting solutions."