Two Wind Turbine Operation and Maintenance Centers to Be Built at Wind Farms In the Northeast to Support Casa Dos Ventos' Growth
SÃO PAULO-March 26, 2015-In response to the expansion of wind energy in Brazil and the importance of the source to the diversification of Brazil's power grid, GE (NYSE: GE) announced the construction of two service centers focused on the operation and maintenance of wind turbines, expected to create around 100 new jobs. The support centers will be staffed by GE technicians and engineers at wind farms operated by Casa dos Ventos and other clients at Chapada do Araripe (PI and PE) and in Garanhuns (PE), which will enable the companies to strengthen their relationships and provide local response much faster for both scheduled and unscheduled service needs.

GE and Casa dos Ventos now have three wind farm clusters under construction. One of these is the Tianguá Cluster, in the state of Ceará, which has 77 GE 1.6-100 wind turbines, with delivery scheduled for the second half of 2015. The other two wind farm clusters are underway at the Garanhuns region, in the state of Pernambuco, which will have 233 GE 1.7-100 wind turbines, bringing 107 turbines to the Santa Brígida Cluster, presently in the installation phase, and the remaining 126 turbines to the São Clemente Cluster. In all, about 530 megawatts of power will be generated by the three projects, enough to supply the demand of approximately 430,000 households.
"As wind power becomes increasingly relevant in the Brazilian energy matrix and Casa dos Ventos expands its investments in the sector, it is reassuring to count on GE's continuous support. This alliance reaffirms our commitment to contributing towards a more renewable energy matrix in Brazil," said Virna Araripe, director of Casa dos Ventos. The company has developed projects in Ceará, Rio Grande do Norte, Pernambuco, Paraíba and Bahia e Piauí, totaling approximately 4.8 gigawatts (GW) of accumulated power in deployment or operation.
For GE, the opening of the new support centers will help increase the company's speed and flexibility in providing services for Casa dos Ventos. "The extension of our services arm in collaboration with Casa dos Ventos reinforces the confidence of both companies in the continuous and sustained expansion of wind power in Brazil," said Jean-Claude Robert, general manager of GE's renewable energy division in Latin America. "Casa dos Ventos is recognized for the quality of the development of its projects, and our relationship aims to maintain the same quality level, making the company our main wind power customer in the Latin American market."
With its recent investments in operation and maintenance support units, GE now has two of its own service centers in operation, the first one being in Bahia and the second in Rio Grande do Norte, each employing approximately 50 people. Currently, more than 900 GE wind turbines are in operation or being installed in Brazil.
"Given the success of our operations in Brazil, we are ready to support Casa dos Ventos in any of its projects, in all the states where the company has operations. Casa dos Ventos has excellent wind resource diagnostic systems, and GE equipment provides the efficiency needed for wind power production," said GE's Robert.
Meeting in São Paulo
The companies' alliance was reinforced in a meeting held on March 25, 2015. At the Casa dos Ventos head office, in São Paulo, the president of the company, Mario Araripe, welcomed GE's Global CEO Jeff Immelt to present project details and to provide a brief presentation of the renewable energy scenario in the country.
"Wind power currently accounts for 4.6 percent of the national grid, registering 6.2 GW of installed capacity in March 2015," said Virna Araripe, presenting data from ABEEólica association, which represents the local industry and that estimates a leap to 16.4 GW in installed capacity until 2019.
GE leaders' perception is that the relationship is aligned to the long-term investments framework that the company develops in Brazil. "The construction of service centers focused on the operation and maintenance of wind turbines reinforces GE and Casa dos Ventos' commitment in the expansion and strengthening of the national wind industry," added Robert.
About Casa dos Ventos
Casa dos Ventos is a pioneer and the greatest investor in the development of wind projects in Brazil. Eight years on the market, the company is responsible for developing about 30 percent of all projects that sold energy on government auctions or to private off-takers. The company also is the owner of the largest pipeline of wind projects in Brazil. Casa dos Ventos' head office is located in São Paulo and its wind projects are spread over the states of Ceará, Rio Grande do Norte, Pernambuco, Paraíba, Bahia and Piauí.
About GE
GE (NYSE: GE) imagines things others don't, builds things others can't and delivers outcomes that make the world work better. GE brings together the physical and digital worlds in ways no other company can. In its labs and factories and on the ground with customers, GE is inventing the next industrial era to move, power, build and cure the world. www.ge.com
About GE Power & Water
GE Power & Water provides customers with a broad array of power generation, energy delivery and water process technologies to solve their challenges locally. Power & Water works in all areas of the energy industry including renewable resources such as wind and solar; biogas and alternative fuels; and coal, oil, natural gas and nuclear energy. The business also develops advanced technologies to help solve the world's most complex challenges related to water availability and quality. Power & Water's six business units include Distributed Power, Nuclear Energy, Power Generation Products, Power Generation Services, Renewable Energy and Water & Process Technologies. Headquartered in Schenectady, N.Y., Power & Water is GE's largest industrial business.
Follow GE Power & Water and GE's renewables business on Twitter @GE_PowerWater and @GErenewables.
Featured Product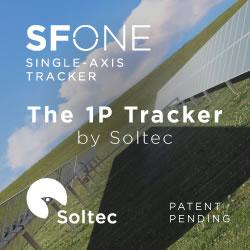 SFOne is the 1P single-axis tracker by Soltec. This tracker combines the mechanical simplicity with the extraordinary expertise of Soltec for more than 18 years. Specially designed for larger 72 an 78 cell modules, this tracker is self-powered thanks to its dedicated module, which results into a lower cost-operational power supply. The SFOne has a 5% less piles than standard competitor, what reduces a 75% the labor time.