New Alliance Delivers Premium Insurance Credit from ProSight to Qualified Solar Contractors that have Earned NABCEP Certification or Company Accreditation
Morristown, NJ (March 30, 2015) – ProSight Specialty Insurance (ProSight) today announced that it is partnering with the North American Board of Certified Energy Practitioners (NABCEP), a leader in renewable energy practitioner certification to launch an exclusive insurance offering for NABCEP certified solar professionals. The organizations have collaborated to promote NABCEP certification by offering insurance premium credits to qualified solar installation companies that have achieved NABCEP Company Accreditation or have Certified Professionals on staff.

"NABCEP certified contractors bring a 'gold standard' level of safety and skill to every project and we value NABCEP's leadership and commitment to furthering educational excellence in the renewable energy industry," said Mary Hughes, President of Energy at ProSight Specialty Insurance. "The premium credit was designed for qualified NABCEP certified practitioners because we know they have achieved a skill level in the field given the training and expertise associated with NABCEP certification."
"Our partnership with ProSight Specialty Insurance demonstrates how installation companies, and the solar industry as a whole, benefits from a trained and certified workforce," said Richard Lawrence, Executive Director at NABCEP. "ProSight understands the risks associated with our industry and offers products that help meet the needs of solar installation professionals."
The ProSight/NABCEP partnership comes just days before the 4th Annual Continuing Education Conference in Albany, NY, designed for NABCEP Certified Professionals who need continuing education credits in order to maintain their certification. ProSight will be at the conference from March 30 through April 1, to meet with attendees to discuss safety, risk management and the exclusive insurance offering for NABCEP certified practitioners.
ProSight caters to the needs of solar contractors in the market today with a one-stop solution combining the following lines of business:
* General Liability with Professional Liability coverage
* Property Insurance
* Inland Marine
* Umbrella Liability
* Builders Risk
* Workers' Compensation
* Auto Insurance
For more information on the NABCEP/ProSight partnership and to get an insurance quote, please visit: http://nabcep.prosightspecialty.com
This material is for general informational purposes only and does not take into account your personal circumstances or objectives. The description of any coverage herein is a summary only. Please refer to the actual policies for complete details of coverage and exclusions. Coverage may not be available in all states. Issuance of coverage is subject to eligibility and underwriting by ProSight Specialty Insurance.
About ProSight Specialty Insurance
ProSight Specialty Insurance was founded by CEO Joseph Beneducci in 2009. The company focuses on niche markets where it has differentiated underwriting and claims expertise, and partners exclusively with specialist distributors who have a deep understanding of their customers. It underwrites on the paper of ProSight Specialty Insurance's group of insurance companies, which hold financial strength ratings of "A" from AM Best and A+ from Standard & Poor's. Based in Morristown, NJ, ProSight Specialty Insurance has regional offices in Los Angeles, New York and Santa Rosa and owns and operates Syndicate 1110 at Lloyd's of London. More information about ProSight Specialty Insurance and its member insurers can be found at http://www.prosightspecialty.com.
About NABCEP
The North American Board of Certified Energy Practitioners (NABCEP) is the most respected, well-established and widely recognized national certification organization for professionals in the field of renewable energy. NABCEP offers entry level knowledge assessment, professional certification, and company accreditation programs to renewable energy professionals throughout North America. NABCEP's mission is to develop and implement quality credentialing and certification programs for practitioners by supporting and working closely with professionals and stakeholders in the renewable energy and energy efficiency industries.
Featured Product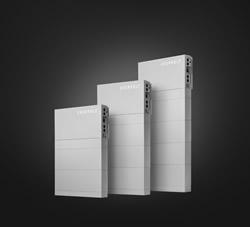 Renewable energy stored in an EVERVOLT home battery system is the perfect backup plan against an uncertain utility grid and weather events. Run key appliances longer and live life when the unexpected happens. EVERVOLT battery storage systems are covered by a complete 12-year warranty from Panasonic.