Pledges secured from campaign will fund public awareness, education and special events which showcase G Home's new living design for a clean energy future
LAS VEGAS, Nev. April 01, 2015

Global Living Systems' (GLS) flagship sustainable design project, "G Home," which is an affordable, high-performance, ecological demonstration home, launches their Kickstarter in celebration of Earth Hour. The crowdfunding campaign takes off after Earth Hour and will conclude on May 30th at 9:30 a.m. PST.
The first G Home demonstration in Las Vegas (GHLV) is currently under construction at 328 N. Lisbon St. Henderson, Nev., near Lake Las Vegas. The home is expected to be completed in the fall of 2015 and will feature prefabricated components, super-insulation and the latest renewable energy production and storage systems. Once completed, the home will be utilized as a venue for meetings, special events and public presentations showcasing the ecological design and philosophy of GLS' G Homes.
G Home's Kickstarter campaign hopes to raise $40,000 within the 60-day time period for the purpose of generating broader public awareness, education and holding on-site special events highlighting the principles and practices of G Homes.
G Home's are simple, elegant, energy-producing designs that follow 21 simple ecological principles and a design diagram developed by GLS; G Home incorporates both the modern needs of occupants and the environment.
"The building and development of G Home is perfectly aligned with Earth Hour's vision of protecting our planet and creating a sustainable world. The G Home represents an achievable, front-line tool that is committed to a campaign of spreading ecological awareness and combating climate change," says GLS Founder and G Home Designer, Aeron Tozier. "We already have a number of prospective clients who are interested in building G Homes of their own. However, the biggest impact will be generated through broader support of our communities who-in-turn, encourage our industries and developers to commit to uncompromising ecological quality and performance at a price we all can afford."
G Home Kickstarter will be providing rewards that include archival photographic artwork, commemorative 3D printed concept models and an invitation to the opening event with accommodations in Las Vegas. To view the G Home Kickstarter page visit http://kck.st/1G3Nfva and for more information about the G Home, visit http://www.GHomeLV.com.
About Global Living Systems
Global Living Systems, Inc. (GLS), established in 2006, is a design, consulting and development company dedicated to producing ecological building solutions for smart, sustainable living and for all on our planet before it's too late. Affordable, super-efficient and high-performance, "G Homes" are the core product of GLS. The homes adhere to ecological principles while utilizing readily accessible, best-in-breed materials, methods and systems in their design and construction. The company envisions a business platform of open sourcing, which allows the sharing of design knowledge in order to enable cooperative improvement across the full range of global climates and conditions. It is the company's hope that doing so will proliferate the rapid advancement of uncompromising living solutions in ensuring a clean and efficient energy future. For more information visit http://www.ghomelv.com
About Aeron Tozier
G Home designer Aeron Tozier, is an American industrial designer who was raised in Singapore, Korea and Japan. He holds a Bachelor's Degree in Architecture from the University of Hawaii at Manoa (UH). His academic and post-graduate work includes heading a project team for the research and prototype design of sustainable cities in Southeast Asia funded by the Rockefeller Foundation, and three years as a UH Research Scholar specializing in 'Ecological Design and Construction Process Innovation.' He apprenticed under tropical architect Carey Smoot, most renowned for the Paul Mitchell Estate in Hawaii. Tozier is also a recipient of the Honolulu AIA's Hart Wood Award for Excellence in Design. Tozier is the President of Global Living Systems, Inc. and Tozier, Ltd.
Featured Product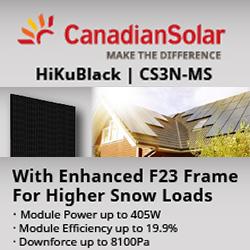 Aesthetic appearance for residential systems: With black backsheet & black frame, Power range 380 ~ 405 W, Low power loss in cell connection. Enhanced reliability: Ā· Low temperature coefficient (Pmax): -0.34 % / Ā°C, LID LeTID less than 2.0%, Lower hot spot temperature, Better shading tolerance.