World Efficiency, the first event to bring together economic and political stakeholders in search of solutions to the challenges posed by the increasing scarcity of resources and by climate change.
The world today is undergoing substantial changes and resources and the climate are amongst those areas where change is greatest. The international 2015 Climate Conference in Paris will be a crucial meeting for reaching an important new international climate agreement. Given such a favourable environment for the development of new economic models and in response to the desire of professionals to present their model solutions and know-how, the organizers of Pollutec are launching WE, World Efficiency, which will take the place of the Paris Pollutec. World Efficiency will be the first event to bring together economic and political stakeholders in search of solutions to the challenges posed by the increasing scarcity of resources and by climate change.

A unifying event
Held in the heart of Paris every other year, World Efficiency will bring together political decision makers, economic players and the developers of real solutions to address climate change and the increasing scarcity of resources. It will present solutions for resources, for cleantech and low carbon solutions driven forward by professionals who are working to produce, build, develop or transport in ways that are different and in ways that combine low consumption with performance (cf.: higher performing energy and manufacturing production, the smart city, new services and practices, low carbon mobility, new agricultural practices…).
A new format
Both exhibition and conference, World Efficiency (WE) will attract companies both large and small, from France and elsewhere, as well as organizations involved in research and engineering and local authorities to take part in a wide ranging exhibition. High profile partners sharing the organizers' commitment that are already supporting this event include: The Shift Project, France Cleantech, Federec, the research and innovation department of the general commission for sustainable development (part of France's environment ministry), Orée, Astee, Ademe, ICLEI, AFITE, the French Mechanical Engineering Federation, CLER, HQE Association, Ubifrance, Uniclima, CINOV Federation, OPQIBI, PEXE, SFGP, Syntec-Ingénierie, CCI France, ATEE, AFHYPAC, Les Eco Maires, the Association of French Overseas Local Authorities.
The World Efficiency international congress will draw in decision makers and opinion formers to consider themes linked to the low carbon city, mobility, low carbon industry, the circular economy and new raw materials. Events announced so far already include one being organized by the Shift Project think tank on practical measures for decarbonizing the European economy. Besides presenting solutions and finance mechanisms, the speakers will also address the role of companies and likely timescales.
For the first time, there will be a World Eco-innovation Summit for representatives of specialist eco-technology clusters from all around the world, enabling them to discuss and share their research and work.
Finally, the first Climate Solutions Awards will be presented at WE. Organized in conjunction with Orée, C3D and the Shift Project, these awards will provide recognition for projects or solutions that are particularly innovative in terms of energy transition and performance. There will be six categories (developing, producing, building, feeding, transporting, operating) and they will be open to both companies and local authorities.
The Gallery: exhibition of solutions during COP21
The first World Efficiency will be linked to the Solutions Gallery, an exhibition of low carbon solutions that will take place in early December at the same time as COP21 in the Air and Space Museum at le Bourget. WE exhibitors will enjoy priority at this 10,000 m² exhibition, which will feature UN delegates, national representatives, economic and political decision makers, researchers and experts invited by exhibitors and the organizers.
Featured Product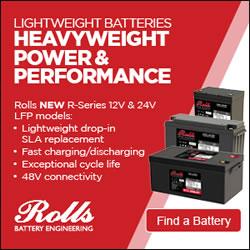 Designed for true drop-in replacement, Rolls new R-Series 12V & 24V LFP lithium models offer a maintenance-free lightweight flooded and SLA alternative in four popular BCI case sizes with fast charge/discharge capability. Rolls custom built-in BMS provides all necessary operating protections for safe operation and seamless integration for deep cycle replacement in 12V, 24V or 48V systems.