In just four weeks' time All-Energy 2015, the UK's largest renewable energy exhibition and conference will open in its new home, Glasgow's SECC, with the expectation that up to 7,000 people from home and overseas will visit the exhibition, to make new contacts and source new suppliers, attend the multi-stream conference over the two days (Wednesday 6 - Thursday 7 May), and relish the networking possibilities of its Giant Networking Evening.
In just four weeks time All-Energy 2015, the UKs largest renewable energy exhibition and conference will open in its new home, Glasgows SECC, with the expectation that up to 7,000 people from home and overseas will visit the exhibition, to make new contacts and source new suppliers, attend the multi-stream conference over the two days (Wednesday 6 - Thursday 7 May), and relish the networking possibilities of its Giant Networking Evening.

All the component parts are in place. Some 450 exhibitors from nearly 20 countries have taken space; over 440 speakers are confirmed to speak in lively debates, discussions and knowledge-sharing sessions in 120 hours of conference and 'quick-fire seminar presentations; and the Glasgow Science Centre is ready to welcome participants at the shows Giant Networking Evening.
Free online registration for all elements of the show is seeing a constant stream of registrations: "We are highly encouraged by the level of registrations," says Event Director, Jonathan Heastie, of Reed Exhibitions. "We are very much looking forward to our first show in Glasgow after 14 successful annual events in Aberdeen. It is fitting that we have moved to the renewable energy hub, in its inaugural Green Year, and have widened our remit to look at 'Sustainable cities as well as at every form of renewable energy generation, business energy efficiency and the opportunities - and challenges - that face all the sectors.
"We are looking forward to a highly stimulating two days; and delighted that organisations have grasped the opportunity All-Energy offers in order to hold associated events the day before the show opens." Registration is at www.all-energy.co.uk/register
Busy exhibition
All-Energys exhibitors represent all sources of renewable energy and business energy efficiency, and to help visitors find their way to the stands that are of most interest to them there are 15 subject-specific trails encompassing bioenergy, energy efficiency, energy storage, hydropower, investment, jobs, low carbon transport, onshore wind, offshore wind, offshore maintenance, professional services, renewable heat, solar, sustainable cities, and wave and tidal.
The trails are available as printed 'maps, via the All-Energy App, and exhibitors display up to three logos on their stand highlighting their specialist areas, whats more, visitors can use the trails online before visiting the show in order to see who which exhibitors have registered under what trail and thus work out just who they are eager to see. "We know that time is of the essence, we all want to make effective use of it, and the trails help both our visitors and exhibitors," says Jonathan Heastie. "Visitors can pre-plan their visit, and exhibitors know that those following the trails are really interested in what they are showcasing, making it a true win:win situation."
Compelling conference
Both days start with opening plenary conference sessions before breaking into nine subject-specific parallel streams.
The opening plenary session on 6 May chaired by Keith Anderson, Chief Corporate Officer of ScottishPower, sees Scotlands Minister for Business, Energy and Tourism, Fergus Ewing MSP deliver a keynote address. Other speakers are Councillor Gordon Matheson, Leader of Glasgow City Council; Professor Sir Jim McDonald, Principal and Vice-Chancellor of the University of Strathclyde; Benj Sykes, Head of Asset Management at DONG Energy Wind Power; and Ian Marchant, former Chief Executive of SSE.
Chaired by Dr Keith MacLean, Chairman of the Energy Research Partnership, a similar session - featuring Professor Paul Ekins, Professor of Resources and Environmental Policy at University College London and Deputy Director of the UK Energy Research Centre; Andrew Lever, Scotland Director of Innovation at the Carbon Trust and Mark Adolphus, Director of Connections, UK Power Networks UK Energy Power Networks - will fire up the second day (7 May).
Then on both days its into those nine compelling and topical streams, with equally impressive line-ups; seven of the streams are in the traditional conference rooms at the SECC, and two are in 'silent theatres on the exhibition showfloor where the audience dons headphones in order to be able to hear without being distracted by any of the ambient sounds within the busy exhibition. Not only do those streams encompass all renewable energy generating sources, business energy efficiency and sustainable cities, but also carbon capture and storage, community energy, energy storage, finance and funding, the grid, hydrogen and fuel cells, renewables for the farming community, and sustainable transport; with a 'Meet the Buyers Share Fair featuring amongst others those behind the Neart na Gaoithe and East Anglia 1 wind farms; Open4Business and some of its stakeholders; Diversify Glasgow; export opportunities for onsite solutions for the mining industry and more..
The exhibition showfloor features three 'quick-fire seminar theatres for community energy (Day 1); business energy efficiency (Day 2); and wave and tidal (both days) presentations follow on from each other throughout the day to keep visitors up-to-date with the latest developments.
The full conference programme is online at www.all-energy.co.uk as both an interactive grid which leads to biographical details of each speaker - and will, post-show, see presentations available - and as a quick and easy to use pdf of the whole programme.
Especially for those eager to export
The GREAT British Lounge on the UK Trade & Investment (UKTI) stand at All-Energy will be the font of all wisdom for those eager to find out about export opportunities. UKTI works with UK-based businesses to ensure their success in international markets. UK-based UKTI experts and Commercial Officers will be on hand to give practical advice.
So far Commercial Officers from thirteen countries - Algeria, Czech Republic, Denmark, Egypt, Germany, Japan, Jordan, Mexico, Morocco, Nigeria, Poland, Russia, Turkey - have confirmed that they will be at the show, with more set to decide shortly. Some of these Commercial Officers will give short country briefings on the UKTI stand, and all will be available for pre-booked 1-2-1 meetings. These can be booked once All-Energy visitors and exhibitors have registered to attend the show.
Other associated events
The afternoon before the show opens (5 May) sees two workshops taking place. Following two years of intensive work, the DTOcean - Design Tools for Ocean Energy Arrays - project takes the alpha-version of its design tool on the road for a test drive with its most important user projects: pioneering project developers, utilities, OEMs, technology developers and supply chain actors.
Meanwhile, SMRU Marines workshop aims to get input into the first results of a project on a review of current and future 'Low visibility real-time monitoring techniques for monitoring marine animals during seismic surveys. Booking information for both workshops is available on the Associated Events page of the All-Energy website www.all-energy.co.uk/Show-Features/Associated-Events/ .
In the evening of 5 May the Glasgow Science Centre will host 'Powering the Future: Lets Talk About It, the first in a series of informative events promoting dialogue between experts and invited public around 'energy-related themes taking place at the Centre. The events format will be that of a round-table discussion focussing on themes surrounding the 'Energy Mix. Further information at www.glasgowsciencecentre.org/special-events/lets-talk-about-it.html
And, on both show mornings (6 and 7 may), Glasgow Chamber of Commerce, in association with Aberdeen & Grampian Chamber of Commerce, will stage Warm-Up breakfasts - booking details at www.glasgowchamberofcommerce.com/news-media/glasgow-buzz/2015/march/30/all-energy-to-have-chamber-warm-up-sessions/
Supporters and sponsors
Shepherd & Wedderburn are sponsoring all the conference and seminar theatres on the showfloor (offshore wind, sustainable cities, and the quick fire seminar theatres); while Element Power is once again sponsoring The Power Club at its executive lounge for those responsible for the management and development of new renewable projects.
All-Energy is held in association with UK Trade & Investment, the Renewable Energy Association, Highlands & Islands Enterprise, Scottish Enterprise and Aberdeen Renewable Energy Group (AREG), with the Society for Underwater Technology as its Learned Society Patron, and supported by over 30 government departments, professional bodies, learned societies and trade associations.
Admission to the major exhibition, the multi-stream conference, and Giant Networking Evening is free of charge to all with a business/ professional interest in renewable energy, and business energy efficiency, there is no admission to anyone under the age of 16.
Further information on all aspects of All-Energy, including registration, travel and accommodation is available from www.all-energy.co.uk
Looking back
All-Energy 2014, the fourteenth to be held in Aberdeen, saw total attendance of 6,875; 450+ exhibiting companies from 19 countries; and over 400 speakers taking part in 95+ hours of conference and seminar sessions.
ENDS
Featured Product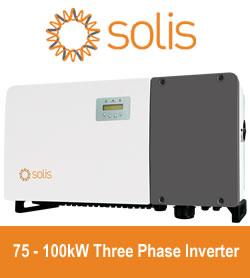 Solis75kW - 100kW series high-power string inverters are widely used in industrial and commercial rooftops. Solis's new three-phase string inverter is the first choice for industrial and commercial photovoltaics. 75-100kW three phase series string inverter have Maximum 28 strings input, support "Y" type connection in DC side. Maximum string input current 13A, support bifacial modules access.Supports anti-PID function to improve system efficiency.