Leading Commercial and Utility-Scale Installer and Developer Borrego Solar Grows O&M Team and Scope to Meet Market Demand for Optimizing Solar System Performance Long-Term
SAN DIEGO, Calif. — April 9, 2015 — Borrego Solar Systems, Inc., a leading designer, developer, installer and financier of grid-tied solar photovoltaic (PV) systems, today announced the expansion of its operations & maintenance (O&M) services to all commercial-scale solar PV assets. Borrego Solar's O&M portfolio recently surpassed the milestone of 150 megawatts (MW) of capacity under management. In addition, last year Borrego Solar doubled its O&M portfolio over 2013.

"Borrego is improving our customers' solar O&M experience through our combination of aggressive site response times, short case resolution periods, and robust tools to help optimize their assets," said Matt Murphy, director of O&M for Borrego Solar. "We are leading the solar industry's path forward in providing solar power asset owners with a transparent O&M process, giving customers 100 percent confidence in the operation of their investment."
Over the past five years, the Borrego Solar fleet has operated at 104 percent of modeled production and over 99 percent of system uptime.
"For the past 35 years Borrego has been a leader in every aspect of solar design, construction and operations. We started out in residential then transitioned into specializing in larger MW-scale projects that brought the needs of various financing partners into play," said Mike Hall, CEO of Borrego Solar. "As a result, we understand the demands of both our host customers and financing partners, and focus our system management approach to meet their specific goals. Given our history in the field with every major manufacturer and technology type, it only made sense to offer our O&M services on a stand-alone basis for commercial customers and large IPPs with multi-MW portfolios."
Every O&M customer receives year-round 24-hour system monitoring managed by Borrego Solar's System Performance Group. There are three components to the company's support network: on-the-ground O&M staff, the Systems Performance Group and the selected DAS platform. Through comprehensive monitoring, solar assets realize minimum plant downtime as Borrego Solar's local support network is able to respond to plant failures within hours.
"AlsoEnergy began our relationship with Borrego with a large-scale portfolio migration to our monitoring platform. Projects like this can easily get off track, but the Borrego team was exceptionally well organized, and well informed about the specifics of each site," said Robert Schaefer, CEO of AlsoEnergy. "Since that time we have worked closely with Borrego asset managers. We find Borrego to be among the top tier of companies in terms of their knowledge and commitment, and their level of engagement with the full range of features in our PV monitoring software. We would recommend Borrego as an O&M provider to our customers."
In 2014, Borrego Solar had a record year in which it saw a 40 percent increase in total MW installed from 2013. The total installations from 2014 represent 30 percent of the company's total installed capacity over its 35 years in operation. According to GTM Research, in 2014 Borrego Solar had the third largest market share of commercial-scale solar in the United States.
On April 15 at the Greentech Media Solar Summit, Matt Murphy will be speaking about O&M on a panel titled "Expanding the PV Asset Management Value and Market." For an overview of Borrego Solar's expanded O&M services, please visit Borrego Solar's O&M page here.
About Borrego Solar
Established in 1980, Borrego Solar Systems, Inc. is one of the nation's leading financiers, designers, developers and installers of commercial and utility solar power systems. Borrego Solar's photovoltaic systems are efficient, reliable and cost-effective. With more than three decades of experience and more than 1,100 solar power installations completed—totaling over 150 MW—Borrego Solar offers a complete line of solar system design and installation services throughout North America. Borrego Solar was the third largest commercial installer in the United States in 2014, according to GTM Research. For more information, visit www.borregosolar.com.
Featured Product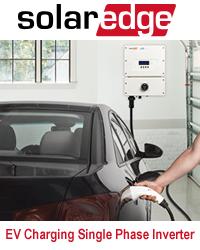 The SolarEdge PV inverter combines sophisticated digital control technology with efficient power conversion architecture to achieve superior solar power harvesting and best-in-class reliability. The fixed-voltage technology ensures the solar inverter is always working at its optimal input voltage over a wider range of string lengths and regardless of environmental conditions. A proprietary data monitoring receiver has been integrated into the inverter and aggregates the power optimizer performance data from each PV module. This data can be transmitted to the web and accessed via the SolarEdge Monitoring Portal for performance analysis, fault detection and troubleshooting of PV systems.