Energy storage firm pursues funding to commercialize its innovative technologies
Sunnyvale, Calif. April 14, 2015

EnerVault Corporation announced today that it is seeking new owners for its redox flow battery technology, which has been successfully demonstrated in the field at megawatt-hour scale.
"In delivering this system to the field, EnerVault has assembled a world-class team, developed significant intellectual property, established strategic supplier partnerships to hit our cost targets, and put in place a path to provide reliable systems," said Ron Mosso, CEO. "The new owners will see the tremendous value that we have created over the last six years and the short path from our successful megawatt-hour demonstration to commercial revenues in the multibillion dollar utility market for energy storage."
In 2014, the company completed the commissioning and testing of the world's largest iron-chromium redox flow battery, EnerVault Turlock. As reported in the March proceedings of the International Renewable Energy Storage forum, this operating project achieved or exceeded all of its targets and demonstrated the potential of megawatt-hour scale redox flow battery technology.
New ownership of the company and its assets are expected to be completed over the next two months. Interested buyers are requested to contact Ron Mosso, CEO, at rjmosso(at)EnerVault(dot)com, or Thomas Jahn, CFO, at tjahn(at)EnerVault(dot)com
About EnerVault:
EnerVault designs and manufactures grid-scale, long duration energy storage systems based on iron-chromium redox flow battery technology pioneered by NASA. EnerVault's energy storage systems offer grid operators the flexibility to both absorb and deliver energy to cost effectively manage system efficiency, increase reliability and integrate renewable resources. Based in Silicon Valley, EnerVault is the first company to deploy megawatt-hour scale iron-chromium redox flow battery systems in field operations. For more information, visit http://www.EnerVault.com
Featured Product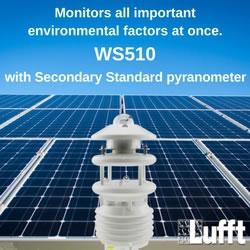 Professional weather sensors form the heart of large solar plants supporting their operation and performance. Lufft was the first manufacturer to combine several sensors in one housing, bringing the largest multiparameter weather sensor family with 19 members into being. Many of them are well-suited for solar site assessment and continuous monitoring. The most commonly used one is the WS600 delivering data on temperature, air pressure, wind, relative humidity and precipitation. Through its open protocol, it can easily be attached to radiation sensors e.g. from Kipp&Zonen. Other models have an integrated Silicon, Second Class or Secondary Standard radiation sensor.