PV*SOL with lithium-ion battery storage and PV*SOL app
Valentin Software has updated the market-leading design software PV*SOL and PV*SOL premium and adapted the programs to reflect the latest developments in the market.The result is that the detailed design, visualization and in particular yield calculation of photovoltaic systems has become even more relevant.

New lithium-ion battery model for battery storage systems
In both variants, PV*SOL is now equipped with its own new mathematical model for lithium-ion batteries, which enables the precise simulation of storage systems with lithium-iron-phosphate and lithium-nickel-oxide batteries. Lithium batteries, as the most important batteries used in the German storage market, are therefore now included in the yield calculation. In addition, complete battery systems offered on the market are available in the PV*SOL database.
Exact simulation with minute values
Today, PV systems have to meet the high requirements of network operators and system owners. As a result, new properties have become important, such as the behavior of 70% power-clipping, inverter oversizing or the interaction of PV systems with storage. These properties can be calculated exactly with PV*SOL, because the simulation can now be optionally performed with minute values. Calculations with hourly values, which were usual up to now, are no longer accurate enough for these new requirements.
In all variants, PV*SOL has a well-maintained database of more than 14,500 solar modules, approximately 3,500 inverters, as well as 500 batteries and battery systems, which is automatically updated and expanded. Both PV*SOL and PV*SOL premium are available in English, French, German, Italian, Spanish and Polish.
Fast yield calculation of PV systems via app
Valentin Software has also extended the free PV*SOL app, previously available for Android operating systems, to iOS.The app supports homeowners and system designers in making the decision for a PV system.
The orientation and inclination of the roof can be measured using the sensors in the smartphone or typed in. The smartphone also automatically determines via the GPS receiver the location of the PV system and displays it on a map. Alternatively, any location in the world can be entered manually.
With the climate data for the location and the characteristics determined for the PV system, the expected annual yield of the system is calculated using a detailed hourly simulation. The simulation uses the PV*SOL calculation model on the Valentin Software server to calculate from the results the system quality and yield.
The app is a useful and free tool to record the data of a planned PV plant on site to make a quick decision for the construction of the plant.
The app is available in English and German, for smartphones with Android or iOS operating systems.
Further information on PV*SOL is available here: www.valentin-software.com/en/products/photovoltaics
About Valentin Software
Valentin Software can look back on over 25 years of successful company history. Thanks to its brands PV*SOL, T*SOL and GeoT*SOL for the dynamic simulation, design, yield calculation and financial prognosis of photovoltaic, solar thermal and heat pump systems, Berlin- based Valentin Software has become a worldwide leading provider in innovative design software for sustainable energy supply.
Among its customers count engineers, system designers, architects, installers and technicians, as well as manufacturers active in the fields of heating technology, electrical engineering, and building services.
Featured Product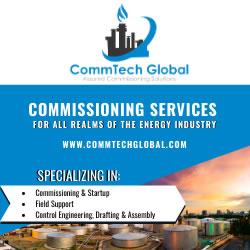 CommTech Global Solutions, LLC, provides professional and reliable commissioning services to customers in all realms of the energy industry. We blend our skills in engineering and technology with innovative business models, offering a complete range of services to assist you for a successful and in compliance operational startup. Consolidation of all our service domains gives our clients a comprehensive set of expertise and far-reaching experience on each project.