Domino, California startup is bringing clean energy and savings to all Americans
Consumers can now save energy and money with revolutionary Energy Concierge service from cleantech startup Domino

Oakland, California startup is bringing clean energy and savings to all Americans.
OAKLAND, CA, April 22, 2015 -- American consumers want to save energy and money -- and to keep our air and water clean. The technology to do that is available today. But most people don't know where to start. They wonder if it's affordable and if they'll have to compromise their lifestyle. The confusion can leave consumers feeling paralyzed.
Enter Domino, a cleantech startup based in Oaklands vibrant up-and-coming Uptown district. Domino is launching the first-ever personal Energy Concierge service for low-carbon living. Concierges will advise consumers on what works for their home, family, and lifestyle -- from LED bulbs to solar panels and everything in between.
Dominos goal is to help 1 billion people power their lives with clean energy.
"Weve all heard of immediate savings with solar for no money down," said CEO Tom Dinwoodie. "But in most parts of the country, people can get entirely free of fossil fuels - coal, gas, and oil - and save money in the process. Modern consumers want to vote with their pocketbooks. Domino will make it possible for everyone to know their options and to make that change, pocketing the savings along the way."
Whats different about Domino?
Domino has discovered that consumers need personalized help, especially for big-ticket items like solar and electric vehicles. Dominos Energy Concierge service provides that missing link.
Domino works independently and doesnt represent any company, product, or service. "Our concierges arent salespeople and dont work on commission. If solar power or an electric car doesn't make sense for a homeowner, we'll tell them," emphasized Amy Gorman, Dominos Director of Service.
Domino COO Stephen Torres noted, "For consumers, it's this simple: One: You reserve a time for a chat with a concierge. Two: Relax and let us do the work. Three: Start saving."
"The Domino concierge service is exactly what I needed," said Julie Campagna, a Domino customer in Sebastopol, California. "I wanted to go solar, but I wasn't sure if it made sense. My concierge, Amy, is making it easy. I feel like I can get somewhere now."
The Domino Energy Concierge service is free for consumers. Dominos revenue comes from referral fees paid by vendors. Those fees cost the vendors less than acquiring customers in traditional ways, so consumers save.
Dinwoodie, Dominos founder, is one of the most successful green entrepreneurs in the U.S. Dinwoodie built his Berkeley-based PowerLight Corporation from a one-man shop into an INC 500 Hall of Fame company, prior to merging with solar giant SunPower.
About Domino:
Domino is on a mission to help 1 billion people power their lives with clean energy. Were energy experts and analysts who have helped thousands of homeowners save energy and money. Dominos first-ever personal Energy Concierge service advises consumers on what works for their home, family, and lifestyle in getting free from fossil fuels -- from energy upgrades to going solar, and everything in between.
Featured Product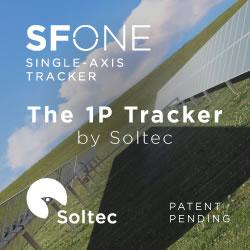 Under the slogan "engineered for greatness", the SF8 tracker aims to revolutionize the photovoltaic market with its new minimum 2x60 configuration and 4 to 6-strings. This tracker is elegantly designed while it reinforces its structure to perform in any terrain. In addition, the SF8 tracker increases the rigidity of its structure by 22% more than the previous generation of Soltec trackers, the SF7. The SF8 is specially designed for larger 72 and 78 cell modules, an increasing market trend.