The Clean Energy Financing Hub grew out of ECCs work in facilitating $1.9 million in financing for its RENEW (Retrofits for Energy Efficiency Works) Cuyahoga Program in the City of Seven Hills.
Washington, DC, April 21, 2015 - Emerald Cities Collaborative (ECC) commends Cuyahoga County, Ohio, and its Department of Sustainability on the recent approval of the Cuyahoga County Clean Energy Financing Hub, which will help businesses, institutions, local governments and homeowners reduce their energy costs and access affordable clean energy retrofits and renewable power supplies.

By leveraging $225,000 of county resources, the Department of Sustainability will make up to $120 million in private sector money available to finance energy-efficient building retrofits and clean, renewable energy like rooftop solar for local businesses, government, schools and universities, social service providers and residents. The first projects are expected to begin by the end of May.
Outgrowth of ECCs RENEW Program
The Clean Energy Financing Hub grew out of ECCs work in facilitating $1.9 million in financing for its RENEW (Retrofits for Energy Efficiency Works) Cuyahoga Program in the City of Seven Hills, which employs local residents in making energy efficiency and renewable energy upgrades to municipal buildings. Launched in June 2014, the program leverages Clevelands community benefits agreement and works with community- and union-based training programs to secure apprenticeships for local workers.
As director of ECCs Cleveland program until earlier this year, current Cuyahoga County Department of Sustainability Deputy Director Shanelle Smith was instrumental in bringing RENEW to fruition.
Until he was tapped to head the Department of Sustainability, Mike Foley, a former Ohio state representative, was a member of Emerald Cites Clevelands Local Council, which advises on and supports ECCs work to build a sustainable and equitable "high-road" economy in the Cleveland metro area.
"The new Cuyahoga County Clean Energy Financing Hub puts into action ECCs high-road agenda of creating a sustainable economy that provides living-wage, career-path jobs for local residents," said ECC President and CEO Denise Fairchild. "We commend the county for moving quickly to fulfill the promise of its new Department of Sustainability and to advance a just, sustainable and clean energy economy for county residents.
Noted ECC Vice President Of Investment Services Kevin Warner, "Cuyahoga Countys commitment to starting the hub builds upon and expands ECCs ongoing efforts to facilitate financing for high-road energy efficiency projects in Northeast Ohio, as demonstrated by our RENEW Cuyahoga Program. Last year, RENEW Cuyahoga assisted the City of Seven Hills, Ohio, in financing a $1.9 million high-road retrofit of city buildings and community facilities."
ECC Provides Services to Contractor Eutectics
As a provider to the hubs prime contractor Eutectics, LLC, ECC will work to ensure that high-road community and workforce standards apply to local clean energy investments and will monitor and report on labor, wage and community benefits for hub-financed projects.
Eutectics, LLC connects qualified clean energy projects with committed capital to advance underserved and untapped markets in energy efficiency, renewable energy and clean water. In its role with the hub, the company will deliver rapid deployment of a clean energy project financing platform in Northeast Ohio with a goal of leveraging a minimum of 8:1 private to public capital within the first year and 15:1 thereafter.
"Todays vote at the Board of Control is very exciting," said Sustainability Director Mike Foley. "It allows Cuyahoga County to fashion a strong, solid clean energy financing system at a time in history when it has never been more important. Working with Emerald Cities and other local partners, we feel highly confident that we can help reduce energy costs, create good local jobs and help clean up the electrical grid."
Eutectics LLCs role in the hub also encompasses assisting in education, outreach and project development, as well as:
* Providing ongoing project identification, intake and reporting to the Department of Sustainability;
* Continuously developing innovative financing tools for clean energy projects; and
* Developing and implementing a strategy for continual program improvement and financial self- sufficiency.
Eutectics LLC President Jeremy Kalin stated, "This is very exciting, and we are thrilled to be part of the hub. County Executive Armond Budish, Councilwoman Sunny Simon and all of Cuyahoga County have shown great leadership and true vision. We are ready to roll up our sleeves and help develop a solid, clean energy program to achieve environmental benefit and economic development."
ECC and Eutectics have signed a memorandum of understanding to facilitate collaboration on clean energy financing and local job creation such as the Cuyahoga County Clean Energy Financing Hub.
Featured Product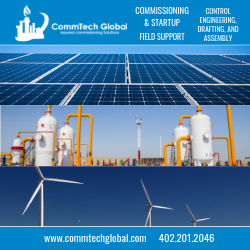 CommTech Global Solutions, LLC, provides professional and reliable commissioning services to customers in all realms of the energy industry. We blend our skills in engineering and technology with innovative business models, offering a complete range of services to assist you for a successful and in compliance operational startup. Consolidation of all our service domains gives our clients a comprehensive set of expertise and far-reaching experience on each project.