Solar silicon producer secures strategic access to key land and port logistics assets
SAN JOSE, Calif. — Silicor Materials, Inc., a producer of high-quality solar silicon, today announced major port and land agreements with Faxafloahafnir SF, Associated Icelandic Ports (AIP), which will support logistics and shipping services to Silicor's commercial-scale plant in Grundartangi, Iceland. Silicor's plant will yield up to 19,000 metric tons of solar silicon each year for the global solar market.

The three agreements will allow Silicor to take advantage of the site's proximity to large amounts of aluminum and metallurgical-grade silicon in the area, both of which are materials needed for the company's unique metallurgical production process. The location also offers a natural market for Silicor's premium aluminum products—master alloy and polyaluminum chloride—both of which are excellent feedstocks for the automotive and wastewater treatment industries, respectively.
Silicor's port terminal agreement with Faxafloahafnir SF solidifies the company's harbor fees for all industrial materials crossing the docks. The site agreement encompasses the work Faxafloahafnir SF is currently completing to extend necessary roads from the pier to the Silicor manufacturing facility. Additionally, the land leasing agreement outlines obligations between Faxafloahafnir SF and Silicor to complete the project.
"The world-class shipping and logistics infrastructure offered by Faxafloahafnir SF allows us to keep costs low and deliver product as quickly and efficiently as possible to customers," said Silicor Materials CEO Theresa Jester. "We look forward to putting Icelanders to work at the port and at our factory while enhancing the country's standing as one of the most strategically located ports in the world—a natural logistics hub in the middle of the North Atlantic, between Europe and North America."
Currently powering more than 20 million photovoltaic (PV) cells around the world, Silicor's solar silicon is a lower-cost alternative to traditional polysilicon that uniquely enables manufacturers to optimize production costs with no impact to performance or quality. The material is produced through a novel metals-based process that consumes two-thirds less energy than traditional methods and requires no hazardous chemicals.
"Faxafloahafnir SF's ports, including Sundaport and Grundartangi, offer deep sea port locations and stand among Scandinavia's largest container ports, with a total annual container throughput of 257,000 TEU. This gives Silicor direct and safe access to key local and international markets," said Gísli Gíslason, Port Director for Faxafloahafnir SF, Associated Icelandic Ports. "With the land lease and harbor contracts signed, Silicor is now approved and ready to export its products to the global solar and aluminum industries."
Featured Product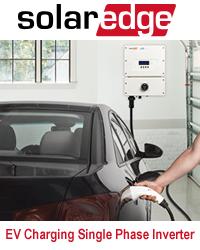 The SolarEdge PV inverter combines sophisticated digital control technology with efficient power conversion architecture to achieve superior solar power harvesting and best-in-class reliability. The fixed-voltage technology ensures the solar inverter is always working at its optimal input voltage over a wider range of string lengths and regardless of environmental conditions. A proprietary data monitoring receiver has been integrated into the inverter and aggregates the power optimizer performance data from each PV module. This data can be transmitted to the web and accessed via the SolarEdge Monitoring Portal for performance analysis, fault detection and troubleshooting of PV systems.