Is 2015 Going to be the Year for the North American Offshore Wind Industry?
Los Angeles, CA April 21, 2015

Infocast, the leading business intelligence and networking events producer in the renewable energy industry, has announced their 6th North American Offshore Wind Development & Finance Summit which will be held June 17-18, 2015 in New York.
The U.S. holds enormous offshore wind potential; an estimated 54 GW of power by 2030 according to a DOE report. By spring 2015, offshore wind farms are expected to begin construction with three additional offshore wind demonstration projects received substantial funding from the Department of Energy. However, for offshore wind to take off, it is critical that project equipment sourcing, construction, operations and maintenance costs be reduced significantly for projects to maximize return on investment (ROI), thereby driving more private investment as has happened for onshore wind.
Infocasts 6th North American Offshore Wind Development & Finance Summit will explore the unique value of offshore wind, the latest financial innovations, public/private partnerships, and technological advances being developed to reduce development time and cost and maximize ROI of offshore wind power projects in North America. The keynote speakers Abigail Ross Hopper of BOEM and John B. Rhodes of NYSERDA, will be joined by representatives from Georgia Department of Natural Resources, Virginia Department of Mines, Minerals and Energy, South Carolina State Legislature, Maryland Public Service Commission and Massachusetts Clean Energy Center and many more.
Attendees will have the opportunity to connect with State and Federal policy-makers and regulators, senior executives from leading project developers, financial institutions, equipment suppliers, construction and other supply chain providers to propel the offshore wind industry forward.
For more information, to register, or to join as a sponsor, visit the event website at infocastinc.com/offshore-wind or contact Infocast at 818-888-4444.
About Infocast
For over 25 years, Infocast has produced the highest quality events, tailored to the needs of the industries we serve. We intensively research the marketplace, pulling from an extensive network of experts to give you the information and connections to succeed.
Featured Product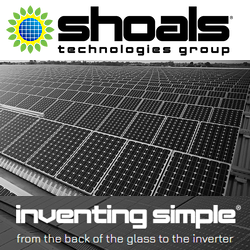 Inventing Simple® isn't just a slogan to us, it's a way of life. Using simple plug-and-play ideology, we revolutionized solar installations in 2003 with our Interconnect System™. Our harnessing system is now the gold standard EPC's use around the world. By using simple ideas, we are making solar energy a more affordable and clean power source for future generations.