WINAICO supplies 2.6 MW of solar modules to almost 750 roofs across Berwickshire, Scotland, in Europe's largest ever crowdfunded solar project
WINAICO, Taiwan's largest PV module brand, was selected to be the module supplier for a large housing project in Berwickshire, Scotland. The plan to install solar on almost 750 residential roofs across Berwickshire Housing Association (BHA) is Europe's largest ever crowdfunded solar project. So far over £1 million of the £3.1 million target has already been raised since fundraising began on 31 October 2014.

2.6 MW of WINAICO solar modules are being installed by Oakapple Berwickshire Plc, a company set up by Oakapple Renewable Energy Ltd of Leeds and Edison Energy Ltd of Glasgow. The company, based in Leeds, has been crowdfunding using the investment site Abundance Generation, which allows people to invest in green projects. At present, over 90 systems are operating with an installed capacity of more than 300kWp.
The 'Oakapple Berwickshire' scheme sees Oakapple Renewable Energy in its first partnership with Glasgow-based Edison Energy designed to install and operate a pipeline of Scottish Housing Association projects.
Oakapple Managing Director David Cockayne and Edison's Business Development Director Fraser Mackenzie commented, "Both companies are very excited about the prospects of this partnership, the two companies complement each other exceedingly well and have very strong capabilities in areas of expertise that were evident after our first meeting. Most importantly we have the same business ethic which is sometimes hard to find."
The chairman of Oakapple Renewable Energy, Phil Taylor, commented on the early success of the scheme, "It is great news that so many people are keen to become involved having read about the project on the Abundance Generation website. A growing number of people are looking to make ethical investments and this type of project allows them to invest in renewable energy projects and make money while supporting the planet."
"There are a number of benefits associated with 'Oakapple Berwickshire'. The Housing Association and its tenants would pay nothing to have the solar panels installed, and the tenants can use as much electricity generated by their solar panels as they need for free, reducing their bills significantly. 'Oakapple Berwickshire', on the other hand, will benefit by earning revenues from the government's feed-in tariff scheme."
Once completed, Edison Energy will maintain 2,595 kWp of solar capacity on behalf of Oakapple Berwickshire Plc who will own the assets. BHA residents with solar installed can enjoy the benefits of the solar installation without any financial commitments. The crowdfunding activities will close on 31 May 2015 or when the maximum investment target is met.
WINAICO - Manufacturer and system supplier
As a global PV brand based in Taiwan, WINAICO manufactures and distributes crystalline high performance modules worldwide. Furthermore, as a systems house for photovoltaic, WINAICO delivers complete PV system packages.
Target customers include solar specialists, solar technologists, installation specialists and project developers. Installation specialists profit here from the superior product quality of products manufactured in Taiwan in accordance with the highest quality standards, as well as from the comprehensive consultation, planning and maintenance services from WINAICO. Generous stock levels ensure the rapid availability of WINAICO products.
Featured Product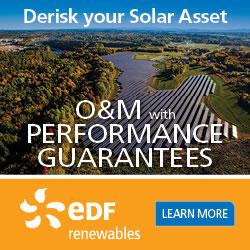 EDF Renewables offers the same innovative solutions that maximize the performance of our own 5.2 GW of installed projects. Because we're not an equipment manufacturer, our recommendations are transparent and data-driven. We cover the entire project lifecycle: from pre-commissioning support, through warranty and post warranty operation, to late stage and decommissioning.