Dow Corning showcases leading innovative solar solutions at SNEC PV Power Expo 2015
April 27, 2015 - Global leader in silicon-based solutions Dow Corning will present its state-of-the-art solar solutions during the 9th International Photovoltaic Conference and Expo at booth W4-523 at the Shanghai New International Expo Center in China, from April 28 to 30.

Committed to improving solar energy production efficiency and reducing LCOE, Dow Corning has successfully launched many products that improve solar competitiveness. On exhibit will be Dow Corning PV-5802 Electrically Conductive Adhesive, for example: a high performance and reliable electrically conductive adhesive for assembling a PV module's back contact. Also featured will be Dow Corning PV-6212 Cell Encapsulant, an optically clear silicone encapsulant offering high performance in PID (Potential Induced Degradation) resistance, which has received high recognition in the PV market since it was launched last year.
Moreover, the world's first silicone encapsulated dual-glass photovoltaic module will be displayed. Dow Corning and BYD jointly developed a total solution for this breakthrough product in the PV market. Beyond providing a silicone encapsulation (Dow Corning PV-6212 Cell Encapsulant) that offers mechanical, thermal, environmental and dielectric protection, Dow Corning also ensured a bonding solution (Dow Corning PV-5802 Electrically Conductive Adhesive) to make the new BYD module perform exceptionally well in mechanical load testing as well as hail and ice impact testing—all of which have made this product into an industry game changer. With the commitment to improve solar energy production efficiency and overall cost reduction, Dow Corning also collaborated with Eurotron, the world-leading provider of photovoltaic module manufacturing equipment developed a new type of module base on MWT technology. This collaboration is also leveraging Dow Corning PV-6212 Cell Encapsulant and Dow Corning PV-5802 Electrically Conductive Adhesive technology. The full size sample will be exhibited as well. You are welcomed to visit Dow Corning booth to study these breakthrough modules.
"Innovative materials are key to addressing the industry's challenge of making solar more competitive with traditional energy sources, and Dow Corning's work with BYD is a perfect example of this," says Francois Bertero, Dow Corning Global Segment Leader of Solar Solutions. As a global leader in silicon-based technology and innovation, Dow Corning is increasingly playing an important role in providing many silicon-based solutions throughout the entire photovoltaic value chain to improve solar energy production efficiency. In the future, Dow Corning will continue its commitment to providing silicon-based innovative solutions, to help PV energy compete with traditional power generation methods and become a real game changer in the PV industry.
Various Dow Corning experts will take part in SNEC's technical sharing, and Solar Industry Application Engineer Mr. Jian Cao will deliver a speech addressing the issue of solar silicone bonding technology and its important impact on the cost structure of a PV module, during the PV Power Conference in Kerry Hotel Pudong, Shanghai, on April 29. Moreover, at the booth, the company will showcase other key product case studies, such as its innovative potting agent solution PV-7326 and frame sealant solution.
Featured Product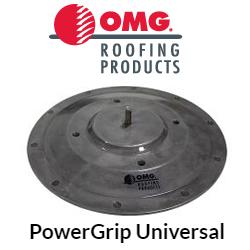 PowerGrip Plus Roof Mount System, a watertight structural attachment system used to secure ballasted solar racks and other equipment to roofs covered with thermoplastic (TPO and PVC) membranes. PowerGrip Plus is designed with wind performance in mind and offers ultimate tensile strength of 2,000 lbf. and ultimate shear strength of 1,075 lbf. Properly installed PowerGrip Plus units reduce rack movement and remaining watertight. PowerGrip Plus units are easy to install, saving both time and labor when compared to alternative options. A wide membrane skirt promotes easy welding in place, and the 15/8 diameter and 1/2 inch tall mount provides an optimal perch for securing brackets or struts. The exposed 1 inch tall and 3/8 inch diameter bolt and mounting stand are made from corrosion-resistant stainless steel and aluminum alloy for superior long-term performance.