Ballard Power Systems today announced its consolidated financial results for the first quarter ended March 31, 2015.
April 28, 2015

• Net Income of $7.0M on strength of deal with Volkswagen Group
For Immediate Release
VANCOUVER, CANADA - Ballard Power Systems (NASDAQ: BLDP; TSX: BLD) today announced its consolidated financial results for the first quarter ended March 31, 2015. All amounts are in U.S. dollars unless otherwise noted and have been prepared in accordance with International Financial Reporting Standards (IFRS).
"In the first quarter, we made progress building our foundation for long-term growth by achieving several key deliverables," said Randy MacEwen, President and CEO. "Most notably, through our newly positioned Technology Solutions platform, we completed a landmark transaction with Volkswagen Group that surfaced value from our intellectual property portfolio by combining it with our intellectual capital-intensive engineering services. This transaction enabled us to report a $7.0 million profit in the first quarter and strongly positions us for long-term automotive fuel cell exposure."
"We continue to expect 2015 revenue to be heavily weighted in the second half of the year. We are seeing significant progression of our sales pipeline based on repeat customer business and complemented by attractive new customers in both our Power Products and Technology Solutions platforms."
Q1 2015 Metrics Summary
(all comparisons to Q1 2014 unless otherwise noted)
• Total revenue of $9.3 million, a decrease of 34% due to an expected decline in Technology Solutions.
• Gross margin of 11%, a decrease due to the absence of high margin licensing revenue as well as higher unabsorbed overhead and
related costs from significantly lower Telecom Backup Power shipments.
• Cash operating costs2 of $7.9 million, an increase driven by higher net research and product development costs, which more than
offset minor reductions in general and administrative costs and sales and marketing costs.
• Adjusted EBITDA2 of ($5.1) million, a decline driven by lower gross margin resulting from an overall decrease in revenue, including
the absence of high margin licensing revenue as a result of the termination of contracts with Azure in China in late-2014.
• Net income of $7.0 million or $0.05 per share, improvements of 283% and 269% respectively, reflecting the $14.2 million gain on
the sale of certain intellectual property assets to Volkswagen Group.
• Cash used by operating activities of ($5.4) million, an improvement of 19%. This reflects cash operating loss of ($5.8) million, partially
offset by an improvement in working capital of $0.4 million as a result of the timing of revenues and related customer collections.
• Cash reserves of $47.6 million at March 31. Cash reserves were fortified in the quarter by approximately $29 million as a result of the
transaction with Volkswagen Group.
Q1 2015 Market Performance
(all comparisons to Q1 2014 unless otherwise noted)
Power Products:
The Power Products platform - consisting of fuel cell products for the Telecom Backup Power market, the Material Handling market and Development Stage Markets - generated revenue of $4.9 million in the quarter, approximately flat year-over-year but reflecting a shift in product mix as detailed below.
Telecom Backup Power
• Revenue of $0.6 million, an expected decline resulting from fewer product shipments, largely the result of continued delays in the
receipt of orders from several telecom service providers.
• Successfully met stipulations specified by the New York City Fire Department for approval of ElectraGen™-ME methanol-fueled
system for rooftop deployments.
Material Handling
• Revenue of $2.6 million, representing growth of 29%, driven by an increase in fuel cell stack shipments.
• Plug Power, Ballards premier customer in this market, has stated an expectation for 2015 shipment growth of its GenDriveTM
systems.
Development Stage Markets
• Revenue of $1.7 million, representing growth from $0.1 million in Q1 last year (adjusted for a reclassification of licensing revenue
to Technology Solutions), as a result of increased power module shipments for use in buses.
• Delivered 3 next-generation FCvelocityTM-HD7 power modules to a bus partner in China, as part of a purchase order for 8 power
modules under a supply agreement signed earlier in the quarter, all of which are expected to be shipped this year.
• Shipped 1 FCvelocity™-HD6 power module to BAE Systems for integration into a bus to be deployed in Ohio.
Technology Solutions:
The Technology Solutions platform - consisting of engineering services and intellectual property licensing - generated revenue of $4.4 million in the quarter, a year-over-year decline of 51%, since revenue in Q1 2014 had included licensing contracts in China that Ballard subsequently terminated and also reflected a cadence in engineering services contract work for Volkswagen AG that was weighted toward the early portion of last year.
• In Q1 2015 Ballard announced a landmark transaction with Volkswagen Group:
o Contract value of approximately $80 million for the transfer of certain automotive-related fuel cell intellectual property and a 2-year
extension to the existing engineering services contract;
o As a result of the transaction, the Company booked $14.2 million as a gain on the sale of intellectual property in Q1 2015.
• Signed a contract with a global automotive OEM to advance the customers fuel cell program through development stages.
• Signed a contract with Ardica Technologies for the next phase of work toward development of a wearable fuel cell power system for
use by soldiers.
[SEE TABLE IN PRESS RELEASE]
For a more detailed discussion of Ballard Power Systems first quarter 2015 results, please see the companys financial statements and managements discussion & analysis, which are available at www.ballard.com/investors, www.sedar.com and www.sec.gov/edgar.shtml.
Conference Call
Ballard will hold a conference call on Wednesday, April 29, 2015 at 8:00 a.m. PDT (11:00 a.m. EDT) to review its first quarter 2015 operating results. The live call can be accessed by dialing +1.604.638.5340. Alternatively, a live audio and slide webcast can be accessed through a link on Ballards homepage (www.ballard.com). Following the call, the audio webcast will be archived in the Quarterly Results area of the Investors section of Ballards website (www.ballard.com/investors).
About Ballard Power Systems
Ballard Power Systems (NASDAQ: BLDP; TSX: BLD) provides clean energy products that reduce customer costs and risks, and helps customers solve difficult technical and business challenges in their fuel cell programs. To learn more about Ballard, please visit www.ballard.com.
Important Cautions Regarding Forward-Looking Statements
This release contains forward-looking statements concerning projected revenue growth, product shipments, gross margin, Adjusted EBITDA, cash operating expenses and product sales. These forward-looking statements reflect Ballards current expectations as contemplated under Section 21E of the Securities Exchange Act of 1934, as amended. Any such statements are based on Ballards assumptions relating to its financial forecasts and expectations regarding its product development efforts, manufacturing capacity, and market demand. For a detailed discussion of the factors and assumptions that these statements are based upon, and factors that could cause our actual results or outcomes to differ materially, please refer to Ballards most recent management discussion & analysis. Other risks and uncertainties that may cause Ballards actual results to be materially different include general economic and regulatory changes, detrimental reliance on third parties, successfully achieving our business plans and achieving and sustaining profitability. For a detailed discussion of these and other risk factors that could affect Ballards future performance, please refer to Ballards most recent Annual Information Form. These forward-looking statements are provided to enable external stakeholders to understand Ballards expectations as at the date of this release and may not be appropriate for other purposes. Readers should not place undue reliance on these statements and Ballard assumes no obligation to update or release any revisions to them, other than as required under applicable legislation.
Further Information
Guy McAree +1.604.412.7919, investors@ballard.com or media@ballard.com
Featured Product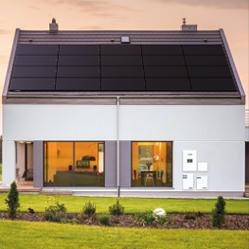 The Q.Home+ ESS HYB-G1 energy storage solution offers scalable storage capacity from 4.5 kWh up to 18.9 kWh and comes in a modular design for easy and fast installation. The system is offered in both DC-coupled and AC-coupled configurations and can connect up to 3 batteries in series using only one inverter and battery management system (BMS). The system includes an integrated backup power function for 100% of the rated inverter output to support critical loads in the event of power failure and offers remote monitoring using the QHOME+ web portal or QHOME+ ESS mobile app.